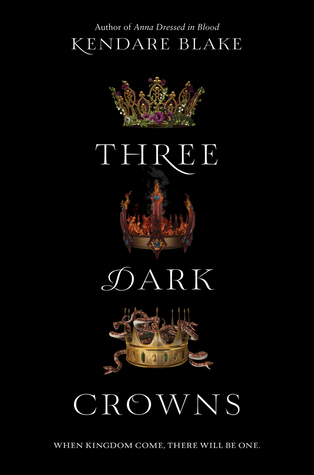 Goodreads Synopsis:
Every generation on the island of Fennbirn, a set of triplets is born: three queens, all equal heirs to the crown and each possessor of a coveted magic. Mirabella is a fierce elemental, able to spark hungry flames or vicious storms at the snap of her fingers. Katharine is a poisoner, one who can ingest the deadliest poisons without so much as a stomachache. Arsinoe, a naturalist, is said to have the ability to bloom the reddest rose and control the fiercest of lions.
But becoming the Queen Crowned isn't solely a matter of royal birth. Each sister has to fight for it. And it's not just a game of win or lose…it's life or death. The night the sisters turn sixteen, the battle begins. The last queen standing gets the crown.
If only it was that simple. Katharine is unable to tolerate the weakest poison, and Arsinoe, no matter how hard she tries, can't make even a weed grow. The two queens have been shamefully faking their powers, taking care to keep each other, the island, and their powerful sister Mirabella none the wiser. But with alliances being formed, betrayals taking shape, and ruthless revenge haunting the queens' every move, one thing is certain: the last queen standing might not be the strongest…but she may be the darkest.
Review:
***I received the ARC eBook free as a review copy from the publisher through Edelweiss in exchange for an honest review***
Starting a favourite author's new book series with a blurb like Three Dark Crown's (exactly my cup of tea - the epitome of brilliant), I expected to love it. Yet, I'm now disappointed because when I found myself having no connection to the story or characters, everything comes down to the fact that I didn't enjoy reading the book. So, instead of a gushing review I thought I'd do this one as a list (everyone likes a good list right?! If it's just me, I'm alright with that).
The good:
•
There was
a lot of insight into the sister's personalities
. Each character had very different motivations and problems, originating from their different places in the world and the people within them.
•
The world is beautifully immersive
and easy to visualise. It took me a while to fully understand the history and subsequent layout, but it didn't fail to interest me the entire time.
The not so good:
•
At the start there were
a lot of people introduced all at once
, with side-characters occasionally taking centre-stage and further confusing the perspectives. Then again, this might have only been a problem for me because of reading it after my head had gone into sleep-mode…
•
The story wasn't very dark
. It had a sinister plot-line sure (killing sisters for power isn't exactly light-hearted) but the writing missed any kind of ominous feel.
•
There was
a hell of a lot of self-pity going around
. It was a party of three. While the queen's had every reason, I expected at least one to deal with it better and not have the reader be reminded every five seconds that two of them were destined to die.
•
I didn't enjoy any of the romance plots
– too much cheating, declaring love (and then cheating again), teaching how to flirt and kiss other people then thinking of the teacher when doing so and being ignorant to the obvious. No thank you.
•
There were
300 pages of plotting, for not a lot of doing
. Parts of the story moved veeeeeerrrry ssllllooooowwly.
•
The ending's major twist was an explanation I had come up with from the very start. Rather a disappointment.
Overall, while this book definitely wasn't for me and I couldn't recommend it, I'm also sure that there will be people to enjoy it – perhaps for some of the reasons I didn't!