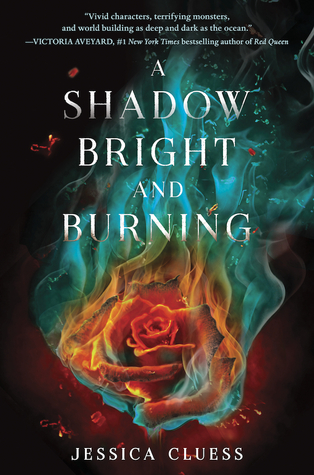 Goodreads Synopsis:
Henrietta Howel can burst into flames. When she is brought to London to train with Her Majesty's sorcerers, she meets her fellow sorcerer trainees, young men eager to test her powers and her heart. One will challenge her. One will fight for her. One will betray her. As Henrietta discovers the secrets hiding behind the glamour of sorcerer life, she begins to doubt that she's the true prophesied one. With battle looming, how much will she risk to save the city--and the one she loves?
Review:
***I received the ARC eBook from the publisher through Sunday Street Team in exchange for an honest review***
Ask me what my new favourite book is and straight away, I'd say A Shadow Bright and Burning. The beautifully crafted story unfolds like a rich tapestry, with every element well done and connected to form a wonderful picture. The plot was intricate, time period fitting, magic captivating, characters complex and friendships unforgettable.
The main character, Henrietta, is easy to love for having the strength to protect both friends and strangers, despite the many obstacles thrown in her path. I instantly connected with her and experienced first-hand the rollercoaster of emotions that was her life. She's surrounded by an almost all male cast of people who want something or other from her and with impossible decisions being made throughout the novel by these characters, it was difficult to determine friend or foe until a big reveal.
The romance was just as murky/complicated with no obvious love interest(s) since I saw many of the boys vying for Henrietta as friends only. I'm sure clarification will occur in the sequel and I have my fingers crossed for the underdog (that might not even be a ship, but I'll root for it anyway!) In the meantime I'll continue appreciating the strong friendships between the sorcerers.
All the characters, particularly Henrietta, grow and develop throughout the novel. Combine this with a thrilling plot that contains terrifying enemies, and you can understand why I'm excited for more! As you can imagine I'll be among the first buying both a finished copy (I need that beautiful cover in my hands) and its sequel (immediately after release no doubt). So it's safe to say that I'd recommend this brilliant book!
a Rafflecopter giveaway