The perfect example of my planning going astray is this post.
I had intended it to be many 1 paragraph (mini) reviews and then they turned into 2 paragraphs... and then I realised that featuring more than 3 books would make this a really long post... So instead here are mini-ish reviews of the last 3 books I read.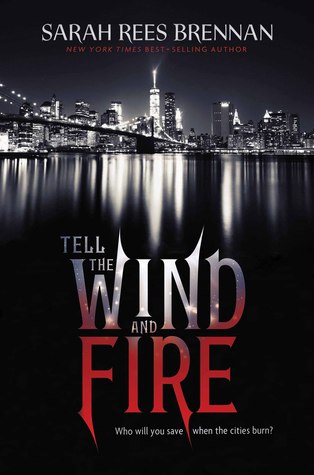 Tell the Wind and Fire by Sarah Rees Brennan
***I received the ARC ebook from the publisher Clarion Books through Edelweiss in exchange for an honest review***
What can I say about this book that will do the excellence justice and make you read it? Because I want you to read it. Now. If only to cry on your shoulder – now that I'm thinking and looking over quotes the tears that I was holding back have come full force. Plus you'll love it! Sarah Rees Brennan has delivered another heart-stoppingly brilliant book (and just plain heart-stopping because that ending…) which has shot straight to my favourites list.
I'm not familiar with A Tale of Two Cities which this story retells and while I'm already biased and can't see it being as good as Brennan's unique story, I am intrigued enough to have a look. Within Tell the Wind and Fire is a city divided between the Light and Dark, with Lucie having a foot in both after being born with Light magic in the Dark city. As a character Lucie was interesting in that she was never the person people wanted her to be – the revolutionary, symbol or obedient girl etc. Even as a reader expecting a dystopian type heroine who wants change, who then sees a girl giving in to injustice in order to survive under pressure. Ethan on the other hand was 'too perfect' and I was continuously waiting for the ball to drop. However Carwyn stole the show and my heart, with the snark that I've come to love from Brennan's books. If only there was more… *curses the existence of standalones*
Trial by Fire (Going Down in Flames #3) by Chris Cannon
***I received the ARC ebook from the publisher Entangled Teen through NetGalley in exchange for an honest review***
When returning to Bryn's world of magic and dragons it wasn't the fantastical elements that first came to my attention (though their awesomeness didn't go unnoticed) but the feeling of seeing friends again. I loved the characters from the first page of book 1 and while there have been many changes (and a significant loss that I don't mourn) the plot changed with it, remaining true to their personalities. It follows Bryn, a dragon hybrid not quite accepted by either clan or the Directorate who have ultimate control, as she tries to navigate the social and political components of this dragon society where there are good friends and dangerous foes.
I did notice Bryn adapting a more 'Blue Clan way of thinking' which fit the situation and also created an understanding between her and possible future fiancé Jaxon (if the Directorate gets their way). Trial by Fire focuses heavily on Bryn's relationship with her knight Valmont but I'd be lying if I said I think they'll work out, or that I want it to… Hashtag team sometimes asshole, sometimes gentleman Jaxon. With a focus on emotional connections woven into the action I was invested from start to finish, devouring the words and enjoying every second.
Daughters of Ruin by K.D. Castner
***I received the ARC ebook from the publisher Margaret K. McElderry Books through Edelweiss in exchange for an honest review***
A rich tale of betrayal and courtly relationships between four Queens from warring countries, brought together to be raised as sisters, in order to secure peace under King Declan's thumb. Told from four points of view all the girls had such unique voices (granted Suki's drove me up the wall! There were too many brackets by which I mean 9 at once which is 9 too many); from a glance you could tell whose perspective it was and their outlook played a part too. Each had different experiences, goals and opinions which shaped their personalities and relationships with others.
Admittedly I did find it hard to connect with any of the 4 main characters (to be honest I only genuinely liked 2) so while that means it was never going to be a 5 star book for me, it's still a great read. Written emotively the sister's connections with each other, and lack thereof, took centre stage over the action. Decisions led to changing dynamics until people's motives became unclear and people's thoughts clouded by often ill-founded emotions. It promises a lot more to come.
I hope you've enjoyed this post! I'd love to know if you intend to pick up any of these books.