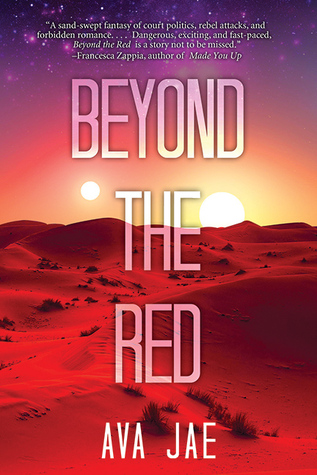 Goodreads Synopsis:
Alien queen Kora has a problem as vast as the endless crimson deserts. She's the first female ruler of her territory in generations, but her people are rioting and call for her violent younger twin brother to take the throne. Despite assassination attempts, a mounting uprising of nomadic human rebels, and pressure to find a mate to help her rule, she's determined to protect her people from her brother's would-be tyrannical rule.
Eros is a rebel soldier hated by aliens and human alike for being a half-blood. Yet that doesn't stop him from defending his people, at least until Kora's soldiers raze his camp and take him captive. He's given an ultimatum: be an enslaved bodyguard to Kora, or be executed for his true identity—a secret kept even from him.
When Kora and Eros are framed for the attempted assassination of her betrothed, they flee. Their only chance of survival is to turn themselves in to the high court, where revealing Eros's secret could mean a swift public execution. But when they uncover a violent plot to end the human insurgency, they must find a way to work together to prevent genocide.
Review:
***I received the ARC eBook from the publisher through Sunday Street Team and Edelweiss in exchange for an honest review***
Amazingly addicting with non-stop action and intrigue, I couldn't help but read it from start to finish in one sitting and every second was spent on the edge of my seat as the breath was stolen from my lungs, heart ripped out then put back together before the cycle repeated.
Right at the beginning both main characters Eros and Kora had been dealt a tough hand and found themselves simply wanting to find somewhere they belong; throughout the novel this theme results in so much pain because you guessed it, it's not that easy. Discrimination against race (Eros isn't accepted by either of his heritages) and sex (Kora is overshadowed by her power-hungry younger brother) has a devastating impact on the characters and readers – the emotions were raw and tangible as well as possible to relate to the real world in a chilling way.
World-building was accomplished brilliantly, with the cultures easy to grasp and differentiate. Eros and Kora acted as representations of what they were/shaped/loathed/could be while remaining true to their own personalities. I have to add that the settings themselves drew you in and felt so real, as if you were inside the book experiencing the blazing heat of the deserts.
Overall, Beyond the Red has everything you could ask for and love. The wonderful story filled with rebellion, down to earth topics, forbidden romance and action galore in beautifully vivid settings is a must read if I've ever found one! Definitely one of my all-time favourites and top ten of this year (even knowing it's only March I'm sure this won't change).
"It was so easy for me to hate her when she was the face of a faraway force we had to run from. When she was one of them – the Sepharon who enslaved us. When she didn't make me laugh, and she didn't trust me with her life, and she didn't turn to me when she felt lost. Now I don't know what to thin. But even if I wanted to, I wouldn't be able to hate her anymore."
Sunday Street Team was created by the wonderful Nori @
ReadWriteLove28
. To sign up and join the team click
here
.