Welcome to Brenda Drake's
THIEF OF LIES
Character Tour! Each stop will feature a character profile from book one of the Library Jumpers Series! There is a tour wide giveaway so be sure to check out all the characters for chances to win. You can find a list of the tour dates
here
. Today, we're getting to know Arik.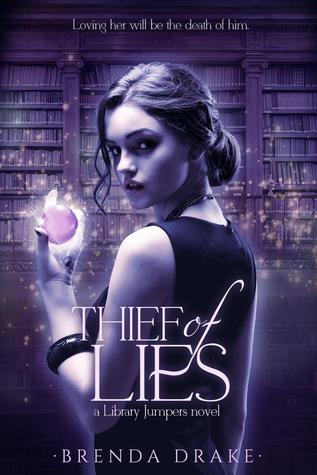 Thief of Lies (Library Jumpers #1) by Brenda Drake
Age:
Young Adult
Publisher:
Entangled TEEN
Release Date:
01/05/2016
Number of Pages:
400
ASIN:
B00YM6RD6M
Genre:
Fantasy, Romance
Gia Kearns would rather fight with boys than kiss them. That is, until Arik, a leather clad hottie in the Boston Athenaeum, suddenly disappears. While examining the book of world libraries he abandoned, Gia unwittingly speaks the key that sucks her and her friends into a photograph and transports them into a Paris library, where Arik and his Sentinels—magical knights charged with protecting humans from the creatures traveling across the gateway books—rescue them from a demonic hound. Jumping into some of the world's most beautiful libraries would be a dream come true for Gia, if she weren't busy resisting her heart or dodging an exiled wizard seeking revenge on both the Mystik and human worlds. Add a French flirt obsessed with Arik and a fling with a young wizard, and Gia must choose between her heart and her head, between Arik's world and her own, before both are destroyed.
Goodreads
|
Amazon
|
Barnes & Noble
---
Thief of Lies Character Tour — Arik
Arik Baine
Age: 17
Sentinel Battle Globe: Red (Fire)
Description: Leader, strong silent type, and fiercely loyal.
Thief of Lies
(Library Jumpers Series Book 1) quote:
"Friends don't think of each other the way I think of you. As it is, I can't sleep at night worrying about you being here. The danger you face.
Arik was born in a small market town, Framlingham in Suffolk, England. He had lost someone he loved when he was younger and he blames himself for it. He froze during an attack and fears he will fail again in the future. Now, he doesn't hesitate, rushing into battle with fierce determination. He can manipulate his battle globe into a fiery whip. Something that takes great skill. Not many Sentinels can will their globe to take a different shape. Being a leader of his Sentinel group, he must set an example for the others. Meeting Gia, tests his determination to follow the rules. He would do anything to protect those who can't defend themselves, and he immediately takes charge of making sure Gia is safe. He's sincere and kind to everyone. Arik is all business most times, but every so often, he lets down his guard and we get a glimpse of his hidden playfulness.
In book two, something happens to Arik that will test his leadership.
Guardian of Secrets (Library Jumpers Series Book 2)
teaser with Gia and Arik:
I sank down into the water to keep warm, the wake from our movements slapping my cheeks. "You're dangerous," I said with my lips just above the water. "I'm dangerous?" He waded toward me. "You are. I'm just an innocent male, hopeless to your charms."
---
I hope you enjoyed meeting Arik. Thank you for stopping by and don't forget to enter the giveaways for a chance to win a $25 Amazon gift card with an eBook copy of THIEF OF LIES or a signed hardcover copy of FORGET TOMORROW by Pintip Dunn below.
About the author
Brenda Drake
Brenda Drake, the youngest of three children, grew up an Air Force brat and the continual new kid at school. Her fondest memories growing up is of her eccentric, Irish grandmother's animated tales, which gave her a strong love for storytelling. So it was only fitting that she would choose to write stories with a bend toward the fantastical. When Brenda's not writing or doing the social media thing, she's haunting libraries, bookstores, and coffee shops or reading someplace quiet and not at all exotic (much to her disappointment).
Website
|
Facebook
|
Twitter
|
Goodreads