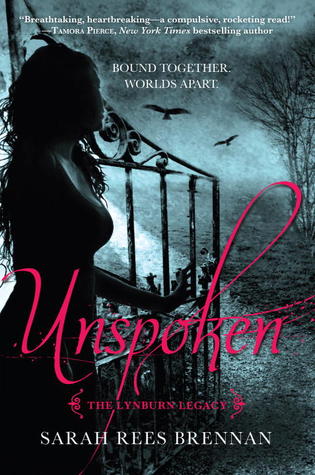 Goodreads Synopsis:
Kami Glass loves someone she's never met . . . a boy she's talked to in her head ever since she was born. She didn't spend her childhood silent about her imaginary friend, and is thus a bit of an outsider in the sleepy English town of Sorry-in-the-Vale. Still, she has a best friend, runs the popular school newspaper, and is only occasionally caught talking to herself. Her life is in order, just the way she likes it, despite the voice in her head.

But all that changes when the Lynburns return. . . .
Review:
For what I'd consider a "well-known book", I'd heard surprisingly little going into Unspoken and with such a vague synopsis I was intrigued… After the first few pages I was hooked.
The mystery aspect was done so well in that we get enough information to keep the momentum going, but not enough to feel satisfied. There never failed to be something more to come which I loved. Most of this led up to (several) big reveals where the pace really picks up until it's impossible to stop reading. That ending though… Not okay!
Moving on before I abandon this review and either start screaming or looking for the second book (possibly both if I can't get it straight away), let's talk about the characters. I have to say Sarah Rees Brennan is exceptional at writing people who you instantly feel something towards (I don't say love because with a certain bad boy *cough*Jared*cough* I was constantly going back and forth between wanting to punch and kiss him).
Every character is so unique with their own personality quirks and my favourite parts in the book were scenes with many together because the dynamics are brilliant, and often hilarious! The main protagonist Kami has great humour and is very relatable with a strive to get answers, be it for her school newspaper or herself, trying to figure out what the hell was going on in town and how she fits into it.
There's no doubt in my mind that I'd recommend you pick up Unspoken. With its supernatural mystery, eclectic cast of characters and entertaining dialogue it was my perfect read – maybe it will be yours too!
Favourite Quotes:
"Hark," he said, his tone very dry. "What stone through yonder window breaks?"
Kami yelled up at him, "It is the east, and Juliet is a jerk!"
Jared abandoned Shakespeare and demanded, "What do you think you're doing?"
"Throwing a pebble," said Kami defensively. "Uh… and I'll pay for the window."
Jared vanished and Kami was ready to start shouting again, when he reemerged with the pebble clenched in his fist. "This isn't a pebble! This is a
rock
."
"It's possible that your behaviour has inspired some negative feelings that caused me to pick a slightly overlarge pebble," Kami admitted."
"I read books, but I do it because I want to - because it's like an escape in my head, like being with you."
"Forest deep, silent bells
There's a secret no one tells
Valley quiet, water still
Lynburns watching on the hill
Apples red, corn gold
Almost everyone grows old"