I'm sitting here under a blanket with a mug of hot chocolate, looking out the window where the trees are slowly losing their leaves and it's finally starting to feel like Autumn <3 so it seemed right to do the Fall Time Cozy Time Book Tag.
And on with the tag!

CRUNCHING LEAVES: The world is full of colour. Choose a book that has reds, oranges or yellows on the cover.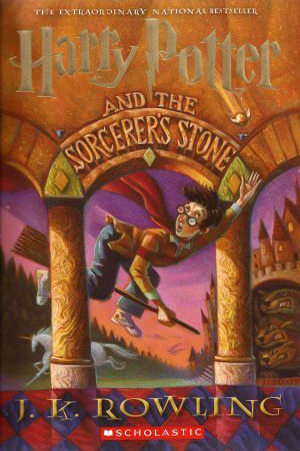 COZY JUMPER: It's finally cold enough to don warm, cozy clothing. What book gives you the warm fuzzies?
I've said it before and I'll say it again - I can't do a tag without mentioning this series. It is of course
Harry Potter by J.K. Rowling
. Reading these books has become a pick-me-up and never fails to brighten my mood and give me the
warm fuzzies
.
FALL STORM: The wind is howling and the rain is pounding. Choose your favourite book/genre that you like to read on a stormy day.
For some reason love to read sci-fi on days like that...
COOL CRISP AIR: Who's the coolest character you'd want to trade places with?
Never have I had an answer for this question, until I saw Olivia's which is Annabeth (we even have part of the same name!) from the
Percy Jackson series by Rick Riordan
and it was one of those smack on the head moments ahah. I'd love to be her and not only for Percy ;) though of course he plays a huge part...
HOT APPLE CIDER: What under-hyped book do you want to see become the next biggest, hottest thing?
There are so many answers for this... Recently I finished
Warriors (The Reverians #3) by Sarah Noffke
and if you've seen
my review
, you'll know I adore this author's writing. Each one of her books deserves to be a bestseller if you ask me!
COATS, SCARVES & MITTENS: The weather has turned cold and it's time to cover up. What's the most embarrassing book cover you own that you would like to keep hidden in public?
I feel like the obvious answer is most NA romances but since I don't own any of them, my second thought was
Sweet Peril (The Sweet Trilogy #2) by Wendy Higgins
. While I don't have anything against this series' choice of covers, they don't showcase YA in all it's glory to me.
PUMPKIN SPICED LATTE: What's your favourite fall time comfort food or drink?
Chocolate and earl grey tea are my faves all year round <3 though I really do want to try hot chocolate with pumpkin spice (which is apparently a thing and really good!)
So that's the end of today's post :) I hope you enjoyed reading my answers, and let me know some of yours in the comments! I'd love to know