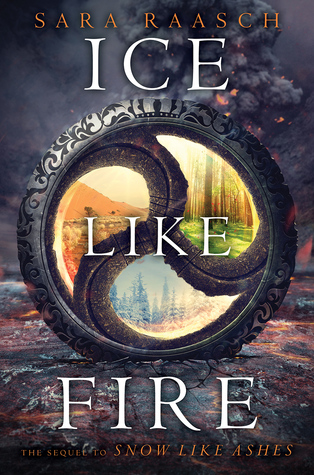 Goodreads Synopsis:
It's been three months since the Winterians were freed and Spring's king, Angra, disappeared—thanks largely to the help of Cordell.
Meira just wants her people to be safe. When Cordellan debt forces the Winterians to dig their mines for payment, they unearth something powerful and possibly dangerous: Primoria's lost chasm of magic. Theron sees this find as an opportunity—with this much magic, the world can finally stand against threats like Angra. But Meira fears the danger the chasm poses—the last time the world had access to so much magic, it spawned the Decay. So when the king of Cordell orders the two on a mission across the kingdoms of Primoria to discover the chasm's secrets, Meira plans to use the trip to garner support to keep the chasm shut and Winter safe—even if it means clashing with Theron. But can she do so without endangering the people she loves?
Mather just wants to be free. The horrors inflicted on the Winterians hang fresh and raw in Januari—leaving Winter vulnerable to Cordell's growing oppression. When Meira leaves to search for allies, he decides to take Winter's security into his own hands. Can he rebuild his broken kingdom and protect them from new threats?
As the web of power and deception weaves tighter, Theron fights for magic, Mather fights for freedom—and Meira starts to wonder if she should be fighting not just for Winter, but for the world.
Review:
***I received the eBook free as a review copy from the publisher HarperCollins via Edelweiss in exchange for an honest review***
I don't want to say it, I don't, but I fear Ice Like Fire has a case of middle book syndrome *stares despairingly at beautiful cover*. There was so much politics and far less action than I would have liked (especially after the epicness that is the first book), it slowed down the pace tenfold. That said, I remained invested in the story and its characters.
Meira, the newly revealed Winter Queen remains a protagonist worth admiring. Granted there were many moments when she struggled between being the person she thought the Winter kingdom needed and the girl who takes risks – I'm just glad that however long it took, she knows the best thing is to stay true to yourself.
Theron and Mather are whole other stories… My heart is so confused; I don't know what to do. Both have developed so much in different ways and while before I felt conflicted over liking both, now I'm not sure if I want either (with Meira of course *looks innocent* I wasn't talking about me). Mather's perspective was interesting, even though his chapters had godawful timing, and I welcomed the addition of the Children of the Thaw. Many more characters were introduced, my favourite being Ceridwen. I implore you to read this book if for no other reason than to see why this girl is so awesome.
Another reason to pick up Ice Like Fire is the thrilling conclusion that lasted for 20% of the book. With things hitting the fan left, right and centre it has set up the third book in the best way possible. Already I can tell that it is not to be missed. Neither is this series, so if you haven't started yet… you should!
Favourite Quotes:
"No one should be forced to be something they aren't."
"The Winter we know has always been one of our own creation, a kingdom built on dreams. So you're right, Feige. We're all Children of the Thaw. Our own hybrid of the past and the future."
"That's how relationships work – when one person is blind, the other must see for them. When one person struggles, the other must remain strong."
"The most powerful magic of all is choice."