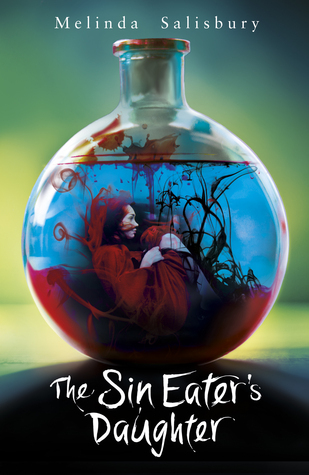 Goodreads Synopsis:
I am the perfect weapon.
I kill with a single touch.
Twylla is blessed. The Gods have chosen her to marry a prince, and rule the kingdom. But the favour of the Gods has it's price. A deadly poison infuses her skin. Those who anger the queen must die under Twylla's fatal touch.
Only Lief, an outspoken new guard, can see past Twylla's chilling role to the girls she truly is.
Yet in a court as dangerous and the queen's, some truths should not be told...
Review:
After I finished this book my emotions were all over the place from devastation to heartbreak to I NEED THE NEXT BOOK IMMEDIATELY! What it boils down to, is the fact this book blew my mind.
I didn't go into The Sin Eater's Daughter knowing much, except what the synopsis says, which was unusual for me and meant that I experienced everything first hand. So often you're unconsciously influenced by reviews and through missing that the reading experience was simply that much better.
From the very start I was drawn in by the stunning writing but it was the story behind the world that was the turning point when I thought "there's no way I'm putting this down now" and ended up reading it in one sitting. The fast pace kept the plot moving along well and the twists thrown in were perfect.
My one problem – the romance. It felt so sudden and forced, well it felt like insta-love! To be honest it didn't take me long to realise Leif was never going to be my favourite character, so I was a little shocked when Twylla was all over him. In a way it reminded me of those instances in YA where the first boy to treat the protagonist as a human being is the one she'll fall in love with; until someone better comes along *cough*Merek*cough*.
Originally Twylla was very naïve which was understandable in her circumstances, yet her emotions were so well portrayed that you didn't realise until everything finally clicked into place and she had to look at the world, and herself, from a different perspective. That's when she showed true strength. Her story is not something I'll be forgetting anytime soon.
Favourite Quote:
"In the stories of old, a hero is the one who sweeps in with a drawn sword and noble face, to kill the Dragon and free the princess. In the stories of old it never seems to dawn on the princess that she should be careful not to put herself at mercy of those who would do her ill in the first place.
I don't live in the stories of old."