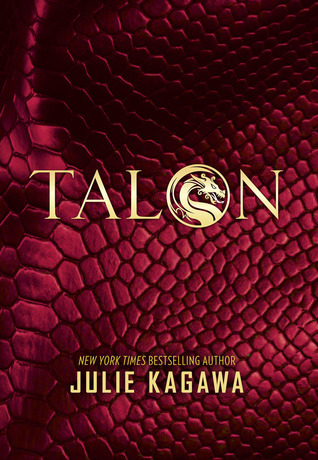 Goodreads Synopsis:
Long ago, dragons were hunted to near extinction by the Order of St. George, a legendary society of dragon slayers. Hiding in human form and growing their numbers in secret, the dragons of Talon have become strong and cunning, and they're positioned to take over the world with humans none the wiser.
Ember and Dante Hill are the only sister and brother known to dragonkind. Trained to infiltrate society, Ember wants to live the teen experience and enjoy a summer of freedom before taking her destined place in Talon. But destiny is a matter of perspective, and a rogue dragon will soon challenge everything Ember has been taught. As Ember struggles to accept her future, she and her brother are hunted by the Order of St. George.
Soldier Garret Xavier Sebastian has a mission to seek and destroy all dragons, and Talon's newest recruits in particular. But he cannot kill unless he is certain he has found his prey: and nothing is certain about Ember Hill. Faced with Ember's bravery, confidence and all-too-human desires, Garret begins to question everything that the Order has ingrained in him: and what he might be willing to give up to find the truth about dragons.
Review:
Julie Kagawa's writing is magic. Not only can she effortlessly transport you into someone else's life, but in this book she does it multiple times with changes of POV. There was no doubt in my mind who was talking and I also loved each character just as much as the next – always a plus!
The story revolves around Ember, a feisty dragonnell restricted by rules, looking only to be free of them. I really felt for her struggle meaning when she was upset, so was the reader and when she was happy, I couldn't stop grinning like a fool. Her enthusiasm for life was contagious and made me want to abandon the homework staring at me from across the room and go jump in the ocean!
My favourite character however was Garrett. Oh Garrett… I love him. To see the strong, emotionless solider start to experience new feelings and come into himself was a joy to read. It also led to some hilarious moments which I wasn't expecting.
Then there's Riley, but to be honest he's too much of an obstacle in Garrett and Ember's relationship for me to care all that much about him; even though he's a great character in his own right. They have enough on their plates as is, what with the "go against the beliefs you were raised with and die" thing – a key theme.
Overall, this book combines everything I could have hoped for: action, swoonworthy romance, family relationships (but that's a whole other thing I won't get into for fear of spoilers) and dragons! Julie Kagawa can do no wrong, and Talon proved this by being one of my favourite books so far this year.
Favourite Quotes:
"Rnesh karr slithis," I hissed back, which was Draconic for eat your own tail, the dragon version of go screw yourself. No extra translation needed."
"Can't anyone ever start a fight without all the posturing and cheesy Bond-villain threats? It's not that hard. Here, let me demonstrate." And he smashed a fist into Colin's nose."
"Kissing her in the ocean and feeling my entire world stop. Wishing I could be normal, if only to be with her. Because she hadn't just taught me how to surf and shoot zombies and to scream while plunging down a roller-coaster drop. She had shown me how to live."