Today I have a very interesting guest post where you can get more of an insight into the lovely author Nicole Luiken's writing career and something I'm even more excited about which you can see in the last line, but you'll have to read on! So without further ado...
Can I make a confession? I'm feeling a little mixed-up right now. Because of the way publishing schedules work I'm actually writing book three of Otherselves at the same time that book one is just being released.
It's very odd, really. When I was writing Through Fire & Sea I pretty much focused on it exclusively for a year—plotting it out, writing the first draft, rewriting it (I do simultaneous 2nd and 3rd drafts), sending it out to Beta readers, tweaking it, etc. I obsessed about it. Then, once I submitted it to the publisher, I had to mentally let it go.
I refreshed myself by working on a totally different project. Then, even though book one hadn't yet sold, I wrote book two in the series. Why? Two reasons. 1/ I'm not a terribly fast writer and I wanted to get a jump on book two so that hopefully publication dates wouldn't be as far apart. 2/ Once book one was published, I knew all the world-building etc would become frozen and unchangeable. Writing book two at this stage gave me an opportunity to tweak book one for continuity.
While Through Fire & Sea went through the acceptance and editorial process at Entangled Teen, I finished writing book two. And then I started on book three (tentatively titled In Truth & Ashes). I'm currently halfway through the first draft.
So I'm starting to get reviews and reader response on book one, Beta reader notes on book two, and I'm writing book three. Is it any wonder I'm feeling a little muddled?
Book two, (tentatively titled Amid Wind & Stone), features two more otherselves, Dorotea and Audrey. While we see some of Leah and a little bit of Holly, it's primarily Dorotea and Audrey's story. In book three the main character is Belinda, the otherself from the True World, but there's also a major plotline with Leah and Fire World.
That's right: Leah is finally getting her happy ending!
About Through Fire & Sea
Mirror mirror, hear my call…
In the Fire world, seventeen-year-old Leah is the illegitimate daughter of one of the realm's most powerful lords. She's hot-blooded—able to communicate with the tempestuous volcano gods that either bless a civilization or destroy it. But then Leah discovers she's a Caller, gifted with the unique—and dangerous—ability to "call" her Otherselves in mirror worlds. And her father will do anything to use her powers for his own purposes.
In the Water world, Holly nearly drowns when she sees—and interacts with—Leah, a mirror image of herself. She's rescued by Ryan, a boy from school with a secret he'd die to protect. Little do they know, his Otherself is the son of a powerful volcano god at war in the Fire world…and he's about to fall.
As Leah and Holly's lives intersect, the Fire and Water worlds descend into darkness. The only way to protect the mirror worlds is to break every rule they've ever known. If they don't, the evil seeping through the mirrors will destroy everything—and everyone—they love...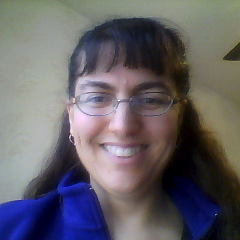 Nicole Luiken wrote her first book at age 13 and never stopped. She is the author of nine published books for young adults, including Violet Eyes and its sequels Silver Eyes and Angels Eyes, Frost, Unlocking the Doors, The Catalyst, Escape to the Overworld, Dreamfire and the sequel Dreamline. She also has an adult thriller, Running on Instinct, under the name N.M. Luiken and a fantasy romance series, Gate to Kandrith and Soul of Kandrith. Nicole lives with her family in Edmonton, AB. It is physically impossible for her to go more than three days in a row without writing.