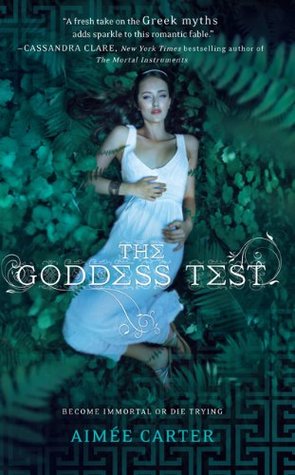 Goodreads Synopsis:
Every girl who had taken the test has died.
It's always been just Kate and her mom - and her mother is dying. Her last wish? To move back to her childhood home. So Kate's going to start at a new school with no friends, no other family and the fear that her mother won't live past the fall.
Then she meets Henry. Dark. Tortured. And mesmerizing. He claims to be Hades, god of the Underworld - and if she accepts his bargain, he'll keep her mother alive while Kate tries to pass seven tests.
Kate is sure he's crazy - until she sees him bring a girl back from the dead. Now saving her mother seems crazily possible. If she succeeds, she'll become Henry's future bride and a goddess.
Review:
As an audiobook, the story was told beautifully – the problem is: the story was awful.
From the synopsis I was intrigued by a plot which looked so promising, and it could have been with the intricate references to Greek mythology but the characters ruined it. I couldn't stand a single one, and even after discovering their true identities (something I predicted from the beginning) they continued to annoy the hell out of me.
Kate was by far the worst. It largely fell down to the fact that she blamed everything on herself. Someone tries to kill her and she feels guilty for the person's twisted reasoning which wasn't under her control. Someone basically imprisons her and she blames herself for when things go wrong and they get their just deserts.
Not only this but she is the most selfless protagonist I have ever read about – and it felt like a bad thing. She never spared a thought about herself, doing everything within her power to aid others when she shouldn't have had to and they didn't deserve it anyways! It was unbelievable and frankly unhealthy at times.
Henry wasn't much better and they were constantly trying to outdo each other with the "I'm not worth you" nonsense. Arghh I wanted to shake some sense into them! Or at the very least slap them upside the head until they started thinking like normal people. Eventually it turned from me virtually tearing my hair out, to laughing aloud at the idiocy. Needless to say I got some weird looks as I walked along the street muttering to myself.
It was one of those things where if I didn't laugh I'd cry; something I didn't even know was possible in a book, let alone a bad one! I wanted to give The Goddess Test 2 stars for bringing some out sort of emotion, but I can't. I just can't, because I can't recommend this.
Unless of course you like uninteresting Greek Gods who abide by morals. You heard me – morals. I mean come on, seriously? What myths has Aimee Carter been reading? They murder and sin and marry their family: they don't "test" mortals by examining their character to see if they are worthy of immortality.
Unless of course you like bland characters that you want to stab.
Unless you want predictable "plot twists" STAY AWAY FROM THIS BOOK! You see it in a bookshop and you hide it behind something else before running away; save yourself the time and mental wellbeing. It's safe to say I won't be touching the sequel with a ten foot pole.
Favourite Quotes:
"Sometimes we misjudge what is possible and what is not."