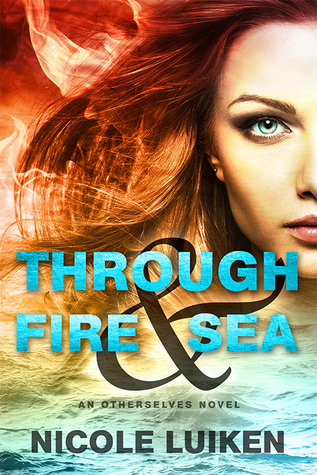 Goodreads Synopsis:
Mirror mirror, hear my call…

In the Fire world, seventeen-year-old Leah is the illegitimate daughter of one of the realm's most powerful lords. She's hot-blooded—able to communicate with the tempestuous volcano gods that either bless a civilization or destroy it. But then Leah discovers she's a Caller, gifted with the unique—and dangerous—ability to "call" her Otherselves in mirror worlds. And her father will do anything to use her powers for his own purposes.

In the Water world, Holly nearly drowns when she sees—and interacts with—Leah, a mirror image of herself. She's rescued by Ryan, a boy from school with a secret he'd die to protect. Little do they know, his Otherself is the son of a powerful volcano god at war in the Fire world…and he's about to fall.

As Leah and Holly's lives intersect, the Fire and Water worlds descend into darkness. The only way to protect the mirror worlds is to break every rule they've ever known. If they don't, the evil seeping through the mirrors will destroy everything—and everyone—they love…
Review:
***I received the eBook free as a review copy from the publisher Entangled Teen via Netgalley in exchange for an honest review***
For a very long time Through Fire & Sea was a 3 star book for me, because I lacked any solid emotional investment to the characters, also it was clear from the start that I'd favour one out of the two perspectives - Holly and Leah - since they were both so different. After reading about so many strong heroines lately, Holly's more feeble attitude rubbed me up the wrong way and even Leah had moments where I rolled my eyes in exasperation.
It was only when I found myself crying half way through, that I realised it was nothing more than a rocky start and I had actually grown attached. Maybe it took a little longer than I'd have liked but by the end of the book I had a new appreciation for the characters, which was worth the initial "oh come on" stage.
What kept the pages turning was my interest to see how everything would come together. The premise for this story with its multiple worlds is incredible and I applaud Nicole Luiken for the amount of depth she's given the idea. As a reader it's great to see this in books, but only when you don't get lost trying to follow the complex plotlines which thankfully didn't happen in Through Fire & Sea. For the most part.
What's more, is that when looking up what other books the author has written I found her other series Violet Eyes which actually plays an important (but subtle) part to this book's plot and for some reason that really stuck out to me as a mind-blowing moment!
There were plenty of these treasurable moments like this which made it worth the read. Including an ending which tied everything together beautifully and has made me eager for a sequel I'm yet to hear anything about…
Conclusively, I would recommend Through Fire and Sea to YA fantasy lovers along with this one piece of advice: stick with it.
Favourite Quotes:
"Leah and Gideon were left staring at each other with hollow expressions. Armies marching. War on the way."
"I have to." A regretful sigh. "And it's best if you don't remember any mermen." He tucked a strand of wet hair behind her ear. His voice stroked her skin like velvet. "Forget me."
And she did."
"He'd stepped off the straight path for her. More clearly than words, the act told Holly that Ryan loved her."