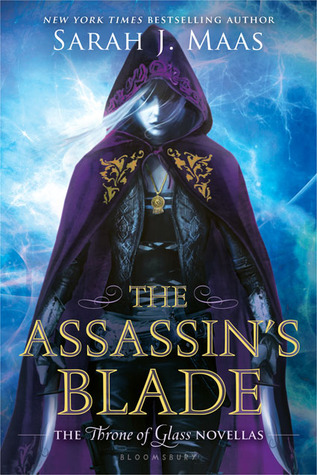 Goodreads Synopsis:
Contains all five novellas.
Celaena Sardothien is Adarlan's most feared assassin. As part of the Assassin's Guild, her allegiance is to her master, Arobynn Hamel, yet Celaena listens to no one and trusts only her fellow killer-for-hire, Sam. In these action-packed novellas - together in one edition for the first time - Celaena embarks on five daring missions. They take her from remote islands to hostile deserts, where she fights to liberate slaves and seeks to avenge the tyrannous. But she is acting against Arobynn's orders and could suffer an unimaginable punishment for such treachery. Will Celaena ever be truly free? Explore the dark underworld of this kick-ass heroine to find out.
Review:
This book….. daaaammmmn
It was everything I'd hoped for: we see why Celaena is Ardalan's Assassin (is it wrong to enjoy her killing sprees? Because I unashamedly do) and we also see Sam in his element… *sniffles* If you haven't started this series yet, I have no clue what you're doing with yourself! Just be warned for the avalanche of feels this book drowns you with.
The Assassin and the Pirate Lord - 5 STARS
This was such the perfect start because you get to see Celaena doing her thing being badass but you can also see some redeeming qualities coming to the surface which Sam is starting to realise too. The love-hate relationship between the two is just perfect!
The Assassin and the Healer – 4 STARS
This novella was short but necessary because it introduced the importance of trying to follow your correct path, and how something so seemingly insignificant as meeting a stranger could impact this.
The Assassin and the Desert – 5 STARS
I loved getting a better insight of the world in this story along with the other assassins guild. The Silent Master was a great edition and made me think about Arobynn… I don't trust him as far as I could throw him, after all he didn't become King of the Assassins for nothing.
The Assassin and the Underworld – 4.5 STARS
The relationship between Celaena and Sam that develops here just warms my fangirl heart. So of course I'm on high alert for something terrible to happen.
The Assassin and the Empire – 5 STARS
I wrote one thing in my notes for this novella and it smudged from my tears: "it's broken me".
So excuse me while I go cry in the corner a little more…
Favourite Quotes:
"If you can learn to endure pain, you can survive anything. Some people learn to embrace it- to love it. Some endure it through drowning it in sorrow, or by making themselves forget. Others turn it into anger."
"There was no way in hell she was going to move to the southern continent without all of her books."
"I love you," he repeated, shaking her again. "I have for years. But if I asked you to pick, you'd choose Arobynn, and I. Can't. Take. It."
"You're a damned idiot," she breathed grabbing the front of his tunic. "You're a moron and an ass and a damned idiot." He looked like she had hit him. But she went on, and grasped both sides of his face. "Because I'd pick you."
"She would tuck Sam into her heart, a bright light for her to take out whenever things were darkest."