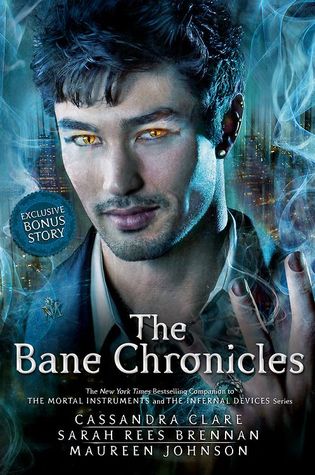 Goodreads Synopsis:
Fans of The Mortal Instruments and The Infernal Devices can get to know warlock Magnus Bane like never before in this collection of New York Times bestselling tales, in print for the first time with an exclusive new story and illustrated material.
This collection of eleven short stories illuminates the life of the enigmatic Magnus Bane, whose alluring personality, flamboyant style, and sharp wit populate the pages of the #1 New York Times bestselling series, The Mortal Instruments and The Infernal Devices.
Originally released one-by-one as e-only short stories by Cassandra Clare, Maureen Johnson, and Sarah Rees Brennan, this compilation presents all ten together in print for the first time and includes a never-before-seen eleventh tale, as well as new illustrated material.
Review:
I can't stop smiling. This book is perfection <3
I've read a lot of hate about Cassandra Clare, but this review isn't about that, because to be honest, they can do whatever the hell they want so long as Cassandra Clare keeps writing.
I have fallen in love with the world she's created and everyone (well almost everyone…) in it. Magnus Bane was a favourite of mine in the other books and I jumped on the chance for more revolving around his life. I wasn't disappointed. You see how much depth his character really has, because while his sarcastic humour and eccentric fashion is what first made me take notice, it was the shadowy feelings of love and loss which captured my attention.
We see so much of both, meaning you won't be hearing any complaints from me!
All the individual stories were so interesting in their own ways, but my favourite had to be "The Course of True Love (And First Dates)" which features so much Malec (Magnus & Alec) that my inner fangirl rose to the surface and went crazy.
This combination of the short stories is a fabulous edition to the Shadowhunter World that all fans of will love and must read.
Favourite Quotes:
"Magnus, you were trying to flirt with your own plate."
"I'm a very open-minded sort of fellow!"
"If one could look this fabulous, one had an obligation to. One should wear everything, or one should wear nothing at all."
"Go to faeries for gossip on vampires, to werewolves for gossip about faeries, and do not gossip about werewolves, because they try to bite your face off: that was Magnus's motto."
"Time was something that moved in fits and starts for Magnus, dissipating like mist or dragging like chains, but when Alec was here, Magnus's time seemed to fall into an easy rhythm with Alec's, like two heartbeats falling into sync."
"Humans did not live forever. They could only hope that what they made would endure."
"Love did not overcome everything. Love did not always endure. All you had could be taken away, love could be the last thing you had, and then love could be taken too. Magnus knew, though, how love could be a last hope and a star to steer by. Light that went out had still shone once."