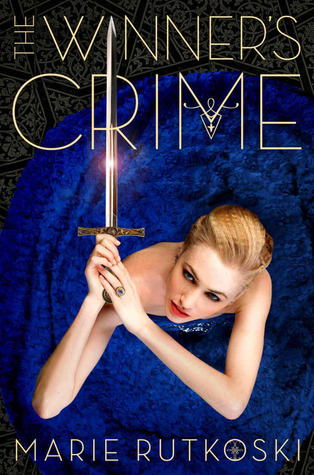 Goodreads Synopsis:
Book two of the dazzling Winner's Trilogy is a fight to the death as Kestrel risks betrayal of country for love.
The engagement of Lady Kestrel to Valoria's crown prince means one celebration after another. But to Kestrel it means living in a cage of her own making. As the wedding approaches, she aches to tell Arin the truth about her engagement…if she could only trust him. Yet can she even trust herself? For—unknown to Arin—Kestrel is becoming a skilled practitioner of deceit: an anonymous spy passing information to Herran, and close to uncovering a shocking secret.
As Arin enlists dangerous allies in the struggle to keep his country's freedom, he can't fight the suspicion that Kestrel knows more than she shows. In the end, it might not be a dagger in the dark that cuts him open, but the truth. And when that happens, Kestrel and Arin learn just how much their crimes will cost them.
Review:
I have to thank the lovely Preethi @
Time Turning Reads
for hosting the giveaway to win an ARC of this book; sending many virtual hugs your way!
The first in the series was captivating and I read it in one solid sitting, pushing aside homework and people and even school (almost late for class… but I wasn't! *phew*) This just so happened to be the same case for the sequel. I loved everything about this book, so much, from the plot to the characters to the way it constantly broke my heart.
I was not prepared for the emotional hell Marie Rutkoski put her characters through, along with us as readers. There were so many tough decisions that went beyond them, but the way it circled back to their decisions was amazing to read. There was also scheming and lying galore in this book, something that seems to be a common factor in this series. However when those secrets were between a certain two people, and one thought badly about the other, argh I wanted to scream and slap some sense into them!
One of the things I particularly loved, was how we see a lot more of the interesting world Rutkoski has created (shame the digital arc didn't include the map though; I guess I'll just have to buy a beautiful physical copy when it comes out! And with it my book buying ban will go out the window. Again) At times it did feel like the middle book in a series because of this, with the way it was setting the groundwork for the conclusive book coming next year. NEXT YEAR! I can't wait that long… The ending has me dying for more, and I have no doubt that the trilogy's finish will be just as perfect. That doesn't mean the wait isn't killing me though…
My advice: read this series (duh) but prepare to have your heart ripped out and crushed with cliffhanger endings and enough of everything to satisfy any reader!
Favourite Quotes:
"If you won't be my friend, you'll regret being my enemy."
"Sometimes you think you want something," Arin told him, "when in reality you need to let it go."
"Brother, you are mad," said the queen.
"He loves me," Roshar protested. The cub was sleeping huddled against Rosher's leg.
"And when it has grown, and is large enough to eat a man?"
"Then I'll make Arin take care of him."
"Arin hadn't fallen asleep on the deck of his strangely still ship, yet, it felt as if he'd been dreaming. As if dreams and memories and lies were the same thing."