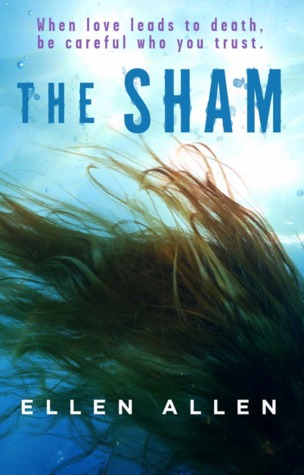 Goodreads Synopsis:
When love leads to death, be careful who you trust…
Eighteen-year-old Emily Heath would love to leave her dead-end town, known locally as "The Sham", with her boyfriend, Jack, but he's very, very sick; his body is failing and his brain is shutting down. He's also in hiding, under suspicion of murder. Six months' ago, strange signs were painted across town in a dialect no one has spoken for decades and one of Emily's classmates washed up in the local floods.
Emily has never trusted her instincts and now they're pulling her towards Jack, who the police think is a sham himself, someone else entirely. As the town wakes to discover new signs plastered across its walls, Emily must decide who and what she trusts, and fast: local vigilantes are hunting Jack; the floods, the police, and her parents are blocking her path; and the town doesn't need another dead body.
WARNING: THIS BOOK IS UNSUITABLE FOR YOUNGER TEENAGE READERS. IT DEPICTS ADULT SITUATIONS, MURDER SCENES, CONVERSATIONS ABOUT SEX AND PROFANITY.
NOTE FROM THE AUTHOR: The idea for this book came to me in a nightmare... It was so vivid that I imagined I was 17 again, at school, in the same group of 4 friends that I used to hang around with. We were involved in a murder and cover-up. I started writing partly as a way to get it out of my head and then the characters turned into real people... and Emily and Jack were born.
As some of the early reviewers have stated, it is quite extreme in chapter one, and necessarily so. This is the incident that sets up the whole book; something awful happens that sets off a train of events for the characters. This book is a mystery in two ways in that we're: 1) trying to find out who killed Emily's classmate; and 2) trying to work out who Jack is. I hope you enjoy it!
Review:
***I received the eBook free as a review copy from the author in exchange for an honest review***
As the author's note says; this book is not for the faint hearted. It starts with a bang and the mystery leads on beautifully from there, turning into a story that will constantly have you on the edge of you seat trying to answer the millions of questions it brings up. I will admit that at times it was hard to read and while my mind was telling me to give it a break for me to catch my breath I couldn't bring myself to put it down, even for a second.
The plot is definitely the best thing about this book. As I've already said the mystery makes it a one sit read but I can't go into much detail without giving something away. The conclusion though was not what I was expecting. In a million years. It took me a while to process what happened and even now I don't think it's quite sunk in; this means that this story doesn't feel completely resolved but it ensures that it's something I won't forget quickly.
Emily wasn't my favourite character, but for that matter neither was Jack. She definitely took off on the wrong foot after the first chapter when she portrayed a very evident weakness that I don't like in literary heroines and her gullibility didn't help. Jack was simply hard to get my head round in so many ways. However even though I felt no attachment to them personally I enjoyed seeing their story unfold.
An incredible thriller that focuses a lot more on murder mystery than romance; so if that sounds like the kind of thing you like go ahead and pick it up!
Favourite Quotes:
"I was only looking to escape a missing girl. I didn't want to find a missing boy."
"I wondered, could you actually love someone, understand them even, without knowing basic information about them? Like maybe their real name?"
"We were trapped in a prison of our own making."
"Sometimes," she stroked my head, "the real world is too much to take."