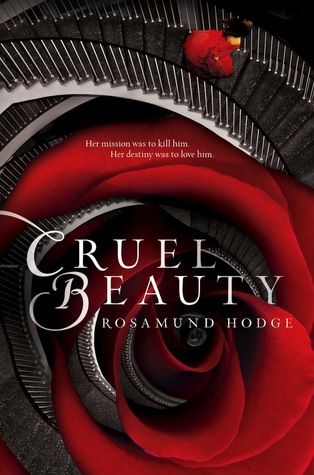 Goodreads Synopsis:
Graceling meets Beauty and the Beast in this sweeping fantasy about one girl's journey to fulfill her destiny and the monster who gets in her way-by stealing her heart.
on the classic fairy tale Beauty and the Beast, Cruel Beauty is a dazzling love story about our deepest desires and their power to change our destiny.
Since birth, Nyx has been betrothed to the evil ruler of her kingdom-all because of a foolish bargain struck by her father. And since birth, she has been in training to kill him.
With no choice but to fulfill her duty, Nyx resents her family for never trying to save her and hates herself for wanting to escape her fate. Still, on her seventeenth birthday, Nyx abandons everything she's ever known to marry the all-powerful, immortal Ignifex. Her plan? Seduce him, destroy his enchanted castle, and break the nine-hundred-year-old curse he put on her people.
But Ignifex is not at all what Nyx expected. The strangely charming lord beguiles her, and his castle-a shifting maze of magical rooms-enthralls her.
As Nyx searches for a way to free her homeland by uncovering Ignifex's secrets, she finds herself unwillingly drawn to him. Even if she could bring herself to love her sworn enemy, how can she refuse her duty to kill him? With time running out, Nyx must decide what is more important: the future of her kingdom, or the man she was never supposed to love.
Review:
This is no Disney fairytale I can tell you that. I expected a Beauty and the Beast retelling to be all hearts and flowers, but Cruel Beauty is a dark and twisted tale of forbidden love and betrayal. So you see how it differs. Of course it has many references to the original such as the enchanted mirror, but when you read this book it fells completely unrelated and a story in its own right.
Nyx the female protagonist is not your stereo-typical heroin who is always selfless and brave to a point when it is unbelievable. She is defiant and bitter, but this makes her relatable because if you were in a situation where you were born to die for others who had never loved you and seen you only as a tool to an end, you wouldn't be the happiest person alive; far from it. This is why I think that she has to be one of my favourite heroines; she's not a "hero". She has her moments of hilarity as well as secrecy, much like Ignifex.
Ignifex who I also love (which was incredibly unexpected). He is the powerful demon Lord that has ruined Nyx's life and her world, who has the blood of countless on his hands, yet still it's hard not to fall in love with him. Just like all Roasmund Hodge's characters he has so much depth past his handsome and witty demeanour.
My one complaint for Cruel Beauty was there was a lot of information dumping about the Greek mythology, and I for one hate when books do this and either skim read it or just skip those chunks, which led to a lot of confusion later on in this incredibly intricate book. But you just have to stick with it because the end will blow you away and answer all your unanswered questions that you hadn't even realised you had.
I was utterly shocked by this book and more than that by how much I actually liked it! It was nothing like I had expected, and instead was shockingly creepy and eerie but that's why I loved it. A stunning stand-alone book and I am desperate for more from this author.
"If you start wondering how this house works, you'll likely go mad. That could be amusing, I suppose. Especially if it's the kind of madness that causes you to run naked through the hallways. Do feel free to indulge in that anytime."
"If you desired someone, if he comforted you, if you thought he might leech the poison out of your heart, was that love? Or only desperation?"
"As long as I could remember, the anger had writhed and clawed inside me, and no matter how much it hurt, I had choked it down. Now at last I hated someone who deserved hatred, and it felt like I was Zeus's thunder, like I was the storms of Poseidon upon the sea. I was shaking with fury, and I had never felt so glad."