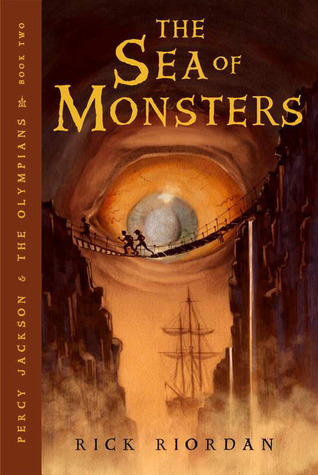 Goodreads Synopsis:
The heroic son of Poseidon makes an action-packed comeback in the second must-read installment of Rick Riordan's amazing young readers series. Starring Percy Jackson, a "half blood" whose mother is human and whose father is the God of the Sea, Riordan's series combines cliffhanger adventure and Greek mythology lessons that results in true page-turners that get better with each installment. In this episode, The Sea of Monsters, Percy sets out to retrieve the Golden Fleece before his summer camp is destroyed, surpassing the first book's drama and setting the stage for more thrills to come

.
Review:
Sea of Monsters (just like the first book) is the combination of everything I look for in a young adult fantasy novel with action, adventure, mythology and even an impending romance that I can't wait to see develop.
Riordan also introduces some morals into his writing that I hadn't picked up on when I first read the series, and it definitely added to the plot since it didn't take away from any of the adventure/action scenes. I have always loved the way he can write these dramatic scenes without being repetitive in the fighting techniques and a lot of up-and-coming authors, even published ones could take a leaf out of his book for sure.
The plot has definitely thickened too, and there was a much more mysterious tone to the writing because of everything going on and things left unsaid. However Percy remained his hilarious self which I loved seeing, especially when it rubbed Clarise, even Annabeth up the wrong way resulting in some great scenes. We also see the introduction of Tyson, who even though is a Cyclops has such a sweet and vulnerable nature that you can't help but love him as time goes on.
The relationships they all have combined with the heroic adventure in this book results in a read that anyone and everyone will love. If you haven't started this series yet… well you should!
Favourite Quotes:
"Families are messy. Immortal families are eternally messy. Sometimes the best we can do is to remind each other that we're related for better or for worse...and try to keep the maiming and killing to a minimum."
"But you, Percy - you are part god, part human. You live in both worlds. You can be harmed by both, and you can affect both. That's what makes heroes so special. You carry the hopes of humanity into the realm of the eternal.

"
"Powdered donuts," Tyson said earnestly. "I will look for powdered donuts in the wilderness." He headed outside and started calling, "Here, donuts!"
"How could music cause so many lives to veer off course? I mean, sure, there were some Top Forty songs that made me want to take a fiery nosedive, but still . . ."