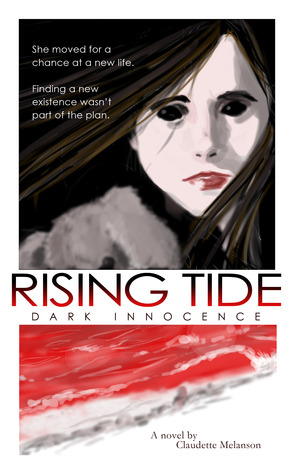 Goodreads Synopsis:
Could Maura's life get any worse? ...turns out it most certainly can.
Isolated and sheltered by her lonely mother, Maura's never been able to make friends. She seems to drive her classmates away—except for the odd times they pay enough attention to torture her—but she doesn't understand why. Maura considers herself to be a freak of nature, with her unusually pale skin and an aversion to the sun that renders her violently nauseous. Her belief is only worsened by the fact that almost everyone around her keeps their distance.
Even her own father deserted her before she was born, leaving Maura alone with her emotionally distant mother, Caelyn. Even though Maura is desperate for answers about her unknown parent, Caelyn remains heartbroken and her daughter can't bring herself to reopen her mother's wounds. Or is there a more sinister reason Caelyn refuses to utter a word about her long-lost love?
When a cruel prank nearly claims Maura's life, one of her classmates, Ron, rushes to her rescue. Darkly handsome & mysteriously accepting, Ron doesn't seem to want to stay away, but Maura is reluctant to get too close, since her mother has announced she's moving the two of them to Vancouver…nearly 3,000 miles away from their hometown of Indiana, Pennsylvania.
If life wasn't already challenging enough, Maura begins to experience bizarre, physical changes her mother seems hell bent on ignoring, compelling Maura to fear for her own life. Vicious nightmares, blood cravings, failing health and the heart-shattering loss of Ron—as well as the discovery of a tangled web of her own mother's lies—become obstacles in Maura's desperate quest for the unfathomable truth she was never prepared to uncover.
Review:
***I received the paperback free as a review copy from the author in exchange for an honest review***
I've always been fascinated with vampires and it's a rare occasion that needs to be celebrated when I find a great vampire novel in the YA genre. Rising Tide fits this perfectly and I'm so glad I got the chance to read it.
What I also loved about this was that it wasn't simply the story of a girl falling into a group of vampires, and being turned blah blah blah because Maura has no idea. And I mean no fricking idea. She spends the majority of her time simply thinking she is "ill" which suits her well enough, all the while you know the truth (which from the synopsis is no secret). What surprised me about this is that I didn't feel like screaming at her because of it. Granted it was stretched out to the complete max, and if her ignorance had lasted until the next book that would be a whole new story.
I'm pretty sure Claudette Melanson wrote this with the idea already in her head that it would be the start of a trilogy, and this comes through in her writing. Like I already said, everything was stretched out but it did mean we can see more of Ron… He was so perfect, and while I usually find myself leaning towards the flawed bad boys with a hidden soft side; Ron was a genuinely nice guy plain and simple (but I hated the hair; I always pictured him with short hair because no one can pull of long hair unless your name is Chris Hemsworth aka Thor but even then it wasn't that long).
The chemistry between Ron and Maura was undeniable, so while it had a very quick time span to develop (I'm trying to avoid the taboo word "insta-love" here) it was believable and I think any writer who wants a romance between characters who don't know each other much hopes to stride for.
It does end on what some people might consider a cliff-hanger but I saw everything coming after approximately the first 10 pages so I'm not shocked, however that doesn't mean I'm not eagerly awaiting the sequel.
Favourite Quotes:
"I smiled up at him, but knew mine was no match for the warmth his held."
"If absence makes the heart grow stronger, it also wounds in the process."
"I thought about how strange the passage of time could be. The moments you wanted to hold onto the most, always ended up slipping away, like a tide pulling away from the shore…constant, unstoppable. Like the fluid waves of the ocean, there is no holding it back, no gripping it in your mortal hands."