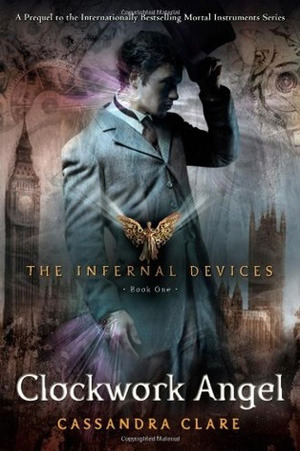 Goodreads Synopsis:
In a time when Shadowhunters are barely winning the fight against the forces of darkness, one battle will change the course of history forever. Welcome to the Infernal Devices trilogy, a stunning and dangerous prequel to the
New York Times
bestselling Mortal Instruments series.
The year is 1878. Tessa Gray descends into London's dark supernatural underworld in search of her missing brother. She soon discovers that her only allies are the demon-slaying Shadowhunters—including Will and Jem, the mysterious boys she is attracted to. Soon they find themselves up against the Pandemonium Club, a secret organization of vampires, demons, warlocks, and humans. Equipped with a magical army of unstoppable clockwork creatures, the Club is out to rule the British Empire, and only Tessa and her allies can stop them...
Review:
I am undoubtedly a diehard Mortal Instruments fan, so The Infernal Devices had in my eyes 2 possibilities: 1) It would be a disappointing copy set in a different era with similar characters or 2) I would soak up every word of Cassandra Clare's writing and love it almost as much.
It was clearly possibility 2, and while I didn't love it as much as The Mortal Instruments I never even considered I would so there was no loss. So much of it was unbelievably original that I realise there was no reason for fear in the first place, while I still thought and compared to The Mortal Instruments it was in my head its own story with its own characters.
There were similarities; for example Will is a lot like Jace, and since I've already completed The Mortal Instruments I can see why, but it didn't get to the point where it felt like a copy. Jace will always be mine, but I can see where people are coming from when they claim Will as their ultimate book boyfriend/husband and I can't wait to understand him deeper which I can only presume will happen in the sequel when we learn more of his back story. If you haven't worked it out by now (and you should have) I will be constantly referencing The Mortal Instruments, which brings me to the fact that Jem has in a way taken Simon's place. He blows Simon out the water though and while I never considered Clary with anyone but Jace, I can see Tessa with Jem.
Unfortunately I was spoiled long, long ago with what happens in Clockwork Princess and like I said I've read City of Heavenly Fire so there's no surprises with what happens. I absolutely look forward to the journey though.
Even with this I did find that I could be surprised; and while I know some of the more major plot twists I didn't know the details so I found myself as shocked as everyone else when... certain… things happened…
I loved every character; Tessa, Will *swoon*, Jem *double swoon*, Henry, Charlotte and even Jessamine just to name a few. What I was most looking forward to though was without a doubt more on my favourite gay warlock Magnus Bane. I've been waiting for the Bane Chronicles ever since I heard about it and so this was a great way of passing the time! Like all the others he has such a complex backstory, but I think Jem wins on that front as you'll come to know when/if you've read this.
And if you haven't read this then you need to! Like now! Cassandra Clare is such a brilliant writer that anyone who hasn't read some of her work is missing out. She astounds me with the way she can create a world you can lost in so completely that when you're reading it feels more real than you own. It's something I treasure in books so I will always treasure hers.
Favourite Quotes:
"One must always be careful of books," said Tessa, "and what is inside them, for words have the power to change us."
"Remember when you tried to convince me to feed a poultry pie to the mallards in the park to see if you could breed a race of cannibal ducks?"
"They ate it too," Will reminisced. "Bloodthirsty little beasts. Never trust a duck."
"It's all right to love someone who doesn't love you back, as long as they're worth you loving them. As long as they deserve it."
"Are you implying that shreds of my reputation remain intact?" Will demanded with mock horror. "Clearly I have been doing something wrong. Or not something wrong, as the case may be."
He banged on the side of the carriage. "Thomas! We must away at once to the nearest brothel. I seek scandal and low companionship."
"Let me give you a piece of advice. The handsome young fellow who's trying to rescue you from a hideous fate is never wrong. Not even if he says the sky is purple and made of hedgehogs."
"Sometimes, when I have to do something I don't want to do, I pretend I'm a character from a book. It's easier to know what they would do."
"Whatever you are physically...male or female, strong or weak, ill or healthy--all those things matter less than what your heart contains. If you have the soul of a warrior, you are a warrior. All those other things, they are the glass that contains the lamp, but
you
are the light inside."