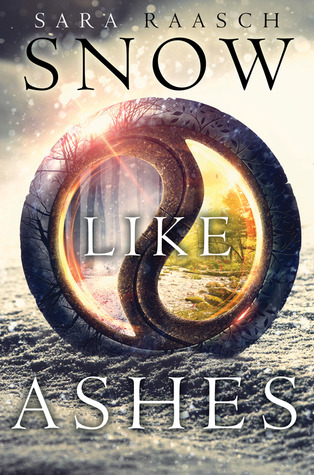 Goodreads Synopsis:
A heartbroken girl. A fierce warrior. A hero in the making.
Sixteen years ago the Kingdom of Winter was conquered and its citizens enslaved, leaving them without magic or a monarch. Now, the Winterians' only hope for freedom is the eight survivors who managed to escape, and who have been waiting for the opportunity to steal back Winter's magic and rebuild the kingdom ever since.
Orphaned as an infant during Winter's defeat, Meira has lived her whole life as a refugee, raised by the Winterians' general, Sir. Training to be a warrior—and desperately in love with her best friend, and future king, Mather — she would do anything to help her kingdom rise to power again.
So when scouts discover the location of the ancient locket that can restore Winter's magic, Meira decides to go after it herself. Finally, she's scaling towers, fighting enemy soldiers, and serving her kingdom just as she's always dreamed she would. But the mission doesn't go as planned, and Meira soon finds herself thrust into a world of evil magic and dangerous politics – and ultimately comes to realize that her destiny is not, never has been, her own.
Review:
***I received the ARC eBook free as a review copy from the publisher through Edelweiss in exchange for an honest review***
Snow Like Ashes is a breathtakingly beautiful story of one girl who grows to be something much more, in a magical world where lies and deceit are as common as the sun in Spring, and the snow in Winter. It was so easy to be immersed in the world Sara Raasch created, and for reality to be swept away replaced by the wonders of The Eight Kingdoms that I found it impossible to put down; and I think there's no greater achievement for a writer.
Everything was developed perfectly, from the characters to the plot and its history. There was a lot of background knowledge that you pick up on throughout the book and it's vital to the story that you at least understand the basics, but what's better is that even with the history of eight kingdoms and their alliances, I never found myself lost or confused (more so than Meira at least).
Meira has to be one of the best female protagonists I've read about recently, with her fierceness and nature to want to be in the thick of every battle; and my god does she! While brought up to be nothing more than the young king's sparring partner, she proves everyone wrong with what she's capable of; succeeding where others have failed and simply kicking-ass where others can't! She also goes through so much character development that I felt I could relate to her in a way I always love to in the books I read. Another great achievement for a writer.
A little side note is that there is a love triangle, but it wasn't one of those infuriating ones that's simply there for the hell of it and this actually worked well for the story. I did find myself worrying sometimes that she was heading towards picking the wrong guy *cough*Mather*cough* and while there's still time for things to change, let's just saying I was grinning like a maniac at the end…
The ending, was of course fantastic like everything else in this book. It had so much drama and action that I was on the edge of my seat, praying everything would go well for the main characters and in particular Meira and Theron. While it isn't a cliff-hanger, there's still a lot left open that basically guarantees I'll be coming back to this series the second a sequel is released.
I recommend that you all join me, by reading this brilliant debut from an author who I know has great things in her future (Raasch if you're by any chance reading this, know that I'll be the one practically stalking your twitter for any news of more writing… just saying…)
Favourite Quotes:
"So," I start as we pull to the left in the hall, "you're the king of Cordell's son. How's that?"
Theron chuckles. "Beneficial sometime, horrible others. You're beautiful – how's that?"
"I wanted a life of my won, a life where I could feel myself being a part of Winter. And that, to me, came though fighting for it."
"Sometimes placing our belief in something bigger than ourselves helps us to get to a point where we can be enough on our own, magic or no magic."
"Holding on to some part of your past even if it means also holding on to the pain of never again having it. That pain is less horrible than the pain of forgetting."
"Someday we will be more than words in the dark."