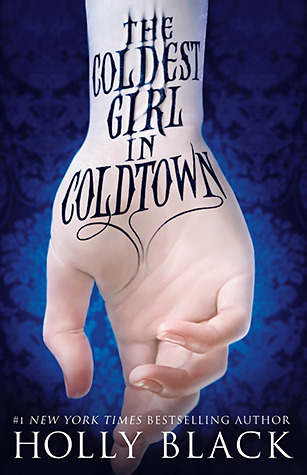 Goodreads Synopsis:
Tana lives in a world where walled cities called Coldtowns exist. In them, quarantined monsters and humans mingle in a decadently bloody mix of predator and prey. The only problem is, once you pass through Coldtown's gates, you can never leave.
One morning, after a perfectly ordinary party, Tana wakes up surrounded by corpses. The only other survivors of this massacre are her exasperatingly endearing ex-boyfriend, infected and on the edge, and a mysterious boy burdened with a terrible secret. Shaken and determined, Tana enters a race against the clock to save the three of them the only way she knows how: by going straight to the wicked, opulent heart of Coldtown itself.
The Coldest Girl in Coldtown
is a wholly original story of rage and revenge, of guilt and horror, and of love and loathing from bestselling and acclaimed author Holly Black.
Review:
This book was bloody brilliant! It chucks you straight into the action with a giant teenage massacre (no big deal…) and from then on the action/tension/drama/every other type of greatness doesn't let up. It had me hooked from the start with its incredibly dark atmosphere; add in merciless, vicious, deranged and good old bloodthirsty vampires and I couldn't put it down. They're not Twilight's Cullen family that's for sure.
Holly Black wrote vampires like you're supposed to; I'm not criticising other vampire books, but these are the real deal which we learnt about as kids to scare us into behaving properly. Of course you have the occasional odd one, but it all works into the bigger picture. The society created was really interesting and while there was the occasional lull because of background knowledge it was still interesting so I tip my imaginary hat to Holly Black.
She even managed to add a romance that I admit I didn't expect to play out quite like it did. You never knew exactly what either Tana or Gavriel meant with the way they acted and Gavriel is simply confusing. He's the dark and misunderstood (but not in a cheesy way, nothing about him or their relationship was cheesy) ancient vampire who's barely survived this long. Tortured to the point of madness I didn't expect any compassion from him, so when he protected Tana and showed his human side I couldn't help but love him. And I don't want to spoil anything, but that final scene… aargh I can't even… b-e-a-utiful.
I loved just about everything in this book and I definitely recommend, along with all of Holly Black's other work. Her talent for storytelling is undeniable and I can't wait to read more from her.
Favourite Quotes:
"She was torn between the impulse to run and the urge to curl up like a pill bug, close her eyes, tuck her head beneath her arms, and play the game of since-I-can't-see-monsters-monsters-can't-see-me."
"She wished it was an unfamiliar feeling, that ache, the urge that made her hit the gas when she ought to hit the brake."
"Every hero is the villain of his own story."
"Tana. In all my long life, though there were many times I prayed for it, no one has ever saved me. No one but you."
"You are more dangerous than daybreak."