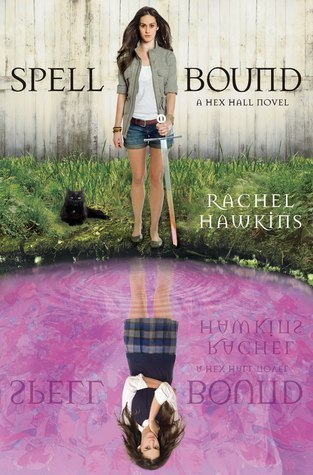 Goodreads Synopsis:
Hailed as "impossible to put down," the Hex Hall series has both critics and teens cheering. With a winning combination of romance, action, magic and humour, this third volume will leave readers enchanted.
Just as Sophie Mercer has come to accept her extraordinary magical powers as a demon, the Prodigium Council strips them away. Now Sophie is defenceless, alone, and at the mercy of her sworn enemies—the Brannicks, a family of warrior women who hunt down the Prodigium. Or at least that's what Sophie thinks, until she makes a surprising discovery. The Brannicks know an epic war is coming, and they believe Sophie is the only one powerful enough to stop the world from ending. But without her magic, Sophie isn't as confident.
Sophie's bound for one hell of a ride—can she get her powers back before it's too late?
Review:
Spell Bound is an amazing climatic conclusion to Hawkins's series and it did not disappoint in the slightest. It continued with the twists and turns around every corner, so you never knew where you stood or what would come next. The characters are also just as awesome as before, I loved seeing their dynamics and I simply loved their personalities which always shone beautifully through in both the drastic situations and the "relaxed" ones. There wasn't much time however for relaxing in this novel for neither the characters nor me, because its fast pace and constant action made it impossible to put down and for the characters downright impossible.
The characterization was even better than the previous books where it reached the point that you could understand their thinking even though you couldn't always predict their actions. This is why the ending was so great because it answers all of your questions about the characters you've grown to love and/or hate, tying all the loose ends together while making sure no one is forgotten. But you don't just find your answers about the characters; all your misunderstandings and unanswered questions towards the plot are put right and you'll look back thinking "oh I hadn't even realised that was important" or "that was so subtle and incredibly clever".
This review has ended up being quite general and focusing more on the book/series as a whole, but I do think it is worth mentioning perhaps one of my favourite characters: Sophie Mercer. She is the kind of heroine that you can not only look to but relate to, and with her snarky comments you can't help but love. She's heroic without realising it and since you read the story from her POV it really only hits when other people talk about her.
Anyway this series has captured my undying attention from the get go with its enigmatic characters and thrilling plot, and the ending even as bitter sweet as it was left me with a smile on my face. Sure the series wasn't perfect but up until the last page I had no ground-breaking complaints, and my only complaint was that it was the last page! Even the death(s) I felt were done well and I almost feel bad because I know I shouldn't have presumed otherwise but this was a huge surprise. It was pulled off by the way the surviving characters dealt with everything, and the death(s) turned out honourable so I had new respect for the character(s).
The Hex Hall series are light and quirky reads combined with a lot of action and mystery through the plot and its characters. I think any YA fan will find something to like in this series because it's such a mixture of everything from a high school for misfits, to a forbidden romance, and a full on war.
"Great I was going into shock. That was just… so inconvenient."
"I can fathom all kinds of things," I told him. "Try me." I think I might have seen pride in my Dad's eyes. Or maybe it was just a gleam of Why is my offspring so insane?"

"Didn't I promise you we could make out in a castle?" Chuckling, I drew my hand back. "You did. And to take me on dates. Real dates with no swords or ghosts or angst."
"Well, there you go," he said. "As soon as we've saved the world from a demon invasion, it's you, me, and Applebee's" I rolled my eyes, but I was grinning now. "Oh, the romance."

"I think I can hold my own in smartassery."