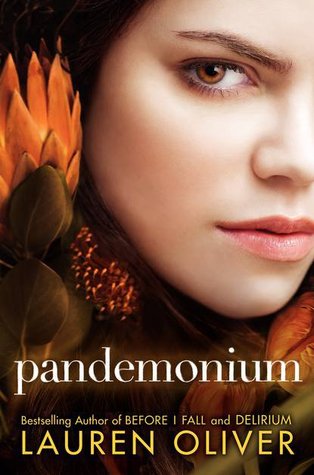 Goodreads Synopsis:
I'm pushing aside
the memory of my nightmare,
pushing aside thoughts of Alex,
pushing aside thoughts of Hana
and my old school,
push,
push,
push,
like Raven taught me to do.
The old life is dead.
But the old Lena is dead too.
I buried her.
I left her beyond a fence,
behind a wall of smoke and flame.
Review:
It is very, very rare for a sequel to be better than the first book in the series but this was the exception and meant that I loved it. Lauren Oliver answered my prayers because she went into so much more depth with the world she created and didn't focus solely on the love story between Alex and Lena. This might have been because Alex was kind of dead. I actually found that I missed him the sweet relationship between the pair, but I was glad that Lena didn't drone on about him and it was done artfully.
The new man in Lena's life is Julian Fineman, who is the son of the head of DFA (Deliria Free America). He is not really that different from Alex, and again there is the obstacle that they are from different "worlds" that they have to overcome. Not to mention the fact that Lena keeps thinking of Alex when they're together. Personally I don't know how I feel about him because I was firmly team Alex in Delirium, and I think I mostly felt sorry for Julian.
Lena herself is so different than she was in Delirium and the way that she describes herself as a whole new Lena wasn't as cliché as it could have been and this is where Lauren Oliver comes into her element. Her writing was detailed and expressive but it didn't drag on and had enough dramatic action that the calmer scenes were a chance to breathe. I was on the edge of my seat as Lena struggled to belong to a world where nothing made sense, and the only person who tethered her to it was gone. But not all was lost as she soon made friends and there was hope for her to create a new life for herself.
My one big problem with this book was the alternating chapters of Lena when she was first stranded in the Wilds and the present, because like with all alternating chapters or POVs you always favour one and it takes effort not to skip the other. Especially when they leave you on a cliff-hanger. Especially when that cliff-hanger might result in a death.
Once again this book concludes with a major twist, and it breaks my heart all over again but not for Lena this time… I will obviously be reading the conclusion to the series: Requiem, because it just got really interesting with this cliff-hanger and I cannot wait to see how it plays out.
Favourite Quotes:
"But...books are so much more. Some of them are webs; you can feel your way along their threads, but just barely, into strange and dark corners. Some of them are balloons bobbing up through the sky: totally self-contained, and unreachable, but beautiful to watch.
And some of them―the best ones―are doors."
"Grief is sinking, like being buried. I am in water the tawny colour of kicked-up dirt. Every breath is full of choking. There is nothing to hold on to, no sides, no way to claw myself up. There is nothing to do but let go."
"Don't believe her."