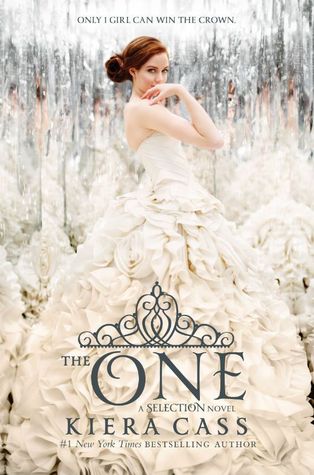 Goodreads Synopsis:
The Selection changed the lives of thirty-five girls forever. And now, the time has come for one winner to be chosen.
America never dreamed she would find herself anywhere close to the crown—or to Prince Maxon's heart. But as the competition approaches its end and the threats outside the palace walls grow more vicious, America realizes just how much she stands to lose—and how hard she'll have to fight for the future she wants.
From the very first page of The Selection, this #1 New York Times bestselling series has captured readers' hearts and swept them away on a captivating journey... Now, in The One, Kiera Cass delivers a satisfying and unforgettable conclusion that will keep readers sighing over this electrifying fairy-tale long after the final page is turned.
Review:
I have been putting off this review because I didn't know how I could do the book justice (or do it spoiler free without ranting/fangirling) and that's why I'm keeping it short.
After finishing The Elite my main concern was whether or not America would once again be a whiny, judgemental, and plain right annoying girl but after she made her decision I am overjoyed to say that she truly tries to stick with it and it's not one of those snap-back emotional decisions we've seen her make too many times to count. She also finally sticks up for herself instead of cowering in the corner then escaping as quickly as possible to go cry in her room, she even talks back to the King! Who we can safely say doesn't get that a lot…
Maxon was pure perfection in this book, and this is most prominent where I can't explain how much of a great character he is because while at times he is the most flawed person around, he makes up for it with his acts of compassion and he always has good intentions under it all. Aspen on the other hand is still as troublesome as ever, and I don't like him if only for the fact that he creates a drift between America and Maxon. HOWEVER, I finally understand his presence in the book and there's even a bonus chapter about him in Barnes and Noble's special edition of The One.
The plot itself is a mix of everything really: its heart-wrenching but also heart-warming, it's fast paced but gives you time to breathe, it's somewhat predictable but gives you some whirlwind twists and I can safely say that it truly pulls on your emotions. I can also say that Kiera Cass has followed my prayer to include a death(s), but I won't say who and don't think I can anyway without getting worked up. When I said someone needed to die, this wasn't what I expected.
Overall The One was an enjoyable ending to The Selection series tying everything together with a big bow of gratification and I recommend the whole series including this book, to people to can handle a sometimes a lot of the time annoying female protagonist!
"It doesn't really matter how you feel about your character; it just matters what you do with it."
"More time meant more opportunities to embarrass myself."
"I told myself this was probably a bad idea, to let him kiss me into a confession. But, I reasoned, if there was ever a way to cave, this was it."
"I want everything with you, America. I want the holidays and the birthdays, the busy seasons and lazy weekends. I want peanut butter fingertips on my desk. I want inside joke and fights and everything. I want a life with you."
"Break my heart. Break it a thousand times if you like. It was only ever yours to break."