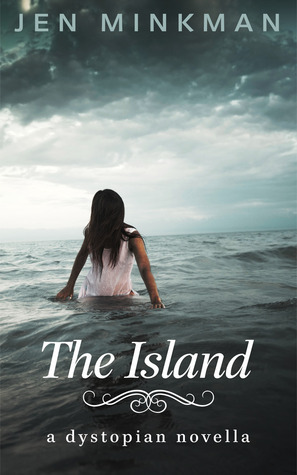 Goodreads Synopsis:
I walk toward the sea. The endless surface of the water extends to the horizon, whichever way I look.
Our world is small. We are on our own, and we only have ourselves to depend on. We rely on the Force deep within us, as taught to us by our forefathers.
If I were to walk westward from here, I would come across a barrier – the Wall. Behind it, there are Fools. At least, that's what everyone says.
I have never seen one.
Leia lives on the Island, a world in which children leave their parents to take care of themselves when they are ten years old. Across this Island runs a wall that no one has ever crossed. The Fools living behind it are not amenable to reason – they believe in illusions. That's what The Book says, the only thing left to the Eastern Islanders by their ancestors.
But when a strange man washes ashore and Leia meets a Fool face to face, her life will never be the same. Is what she and her friends believe about the Island really true?
Or is everyone in their world, in fact, a Fool?
Review:
Regardless of the short length of this book, The Island is a one-sit read because it grabs your attention and never let's go. The pace was fast and the plot was interesting, but I can't say too much without giving everything away. I loved seeing the plot unfold and trying to work everything out, it actually took me a while to get my head around the star wars references but once I did it was definitely a eureka moment.
You don't see nearly as much character development as you would a full length novel which is understandable, and it focused a lot on the plot anyway. But what you do see is relevant because it keeps you connected to the characters so you don't just witness the events unfolding, but live them, and I think this is an accomplishment for such a short book and says a lot about the author's talents.
What's an even bigger accomplishment is that the time you spent developing characters so they changed along with their situation wasn't bad because they didn't develop into the typical annoying and narrow-minded protagonists other novels have for some reason decided to include.
Leia the female protagonist is an easy to grasp heroin who just so happens to be the embodiment of the rebellion. She proves that even the whisper of a lost truth can spark something so much bigger, because it only takes one person/thing to tip the scales if they're brave enough to try and push.
Once I found out the full plot I had my doubts that it would actually work… but it did, and I applaud Minkman for pulling off what I thought would be impossible. It turns out that The Island is the type of novella I would have liked to be a full novel, but as is it is a great quick read for those tiresome car journeys or laid back nights.
Favourite Quotes:
"A mother's love never fades."
"We may not be alone, but I sure felt like we are."
"I bet you think I'm an arrogant showoff."
"Yes, I kind of do," I admit frankly.
His face falls. "Oh."
"Well, you're being one."