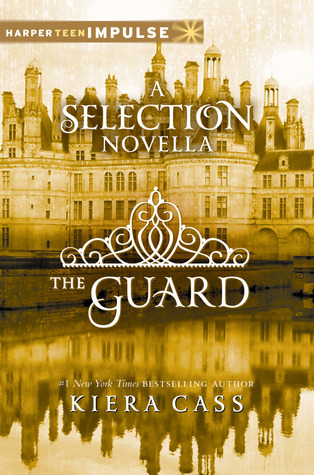 Goodreads Synopsis:
Before America Singer met Prince Maxon . . .
Before she entered the Selection . . .
She was in love with a boy named Aspen Leger.
Don't miss this digital original novella set in the captivating world of Kiera Cass's #1
New York Times
bestselling Selection trilogy. This brand new 64-page story begins just after the group of Selected girls is narrowed down to the Elite and is told from Aspen's point of view.
Basically this book is scenes from The Elite but from Aspen's point of view, which if I'm honest I don't really care about and didn't see much point in reading because it would only get me more pissed off with Aspen. His love for America is painfully obvious but since he is the one who broke her heart in the process of pushing her away, I have no respect or love for his character.
That was until I read The Guard.
The Author Kiera Cass wrote this short story so beautifully that you saw a whole new side to Aspen. It was clear from the start that he thought the world of America and that she deserved the best, but you see how deep his un-dying love goes through the writing. What people don't realise reading The Elite is that his over-bearing jealousy is the only way he can truly show how much he cares, because otherwise there's not much else he can do. I thought he was a simple character before but I realise now he isn't, and that's all you really need to know to pick up this book.
I loved reading from Aspen's point of view more than I thought I would, and I love his character now more than I thought I would. But don't get me wrong, he still doesn't deserve America.
This short story should not be read based upon whether or not you like Aspen. It instead adds depth to his character as well as the series as a whole. You never know, Kiera Cass might change your mind about him to...
"She clung to him, song after song, staring into his eyes the way she used to stare into mine."
"I've seen a lot of people let the bad around them make them hard or stubborn. In the end, they miss the chance to make their world better because they only see the worst in it."
"Accepting help is its own kind of strength"