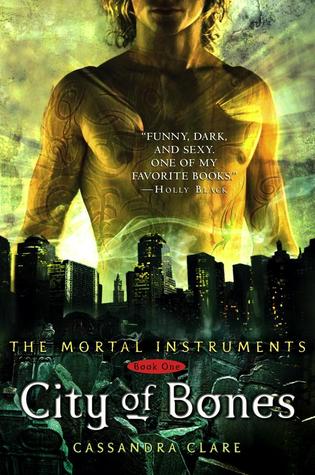 Goodreads Synopsis:
When fifteen-year-old Clary Fray heads out to the Pandemonium Club in New York City, she hardly expects to witness a murder― much less a murder committed by three teenagers covered with strange tattoos and brandishing bizarre weapons. Then the body disappears into thin air. It's hard to call the police when the murderers are invisible to everyone else and when there is nothing―not even a smear of blood―to show that a boy has died. Or was he a boy?
This is Clary's first meeting with the Shadowhunters, warriors dedicated to ridding the earth of demons. It's also her first encounter with Jace, a Shadowhunter who looks a little like an angel and acts a lot like a jerk. Within twenty-four hours Clary is pulled into Jace's world with a vengeance, when her mother disappears and Clary herself is attacked by a demon. But why would demons be interested in ordinary mundanes like Clary and her mother? And how did Clary suddenly get the Sight? The Shadowhunters would like to know...
Exotic and gritty, exhilarating and utterly gripping, Cassandra Clare's ferociously entertaining fantasy takes readers on a wild ride that they will never want to end.
Review:
By the angel, City of Bones is pure YA perfection!
I devoured this book with its stunning romance and nail biting action; there was never a dull moment in poor Clary's life and I couldn't turn the pages fast enough to find out what happened next!
She can't complain though really, after all with the Shadow World comes Jace. Ahh Jace *heartfelt sigh*. In books I usually want to the female protagonist to go for the tough-on-the-outside-gooey-on-the-inside guy, but Jace threw all this out the window with his arrogant attitude and stunning looks. I completely fell for him and there's much more to him than meets the eye (not that what you see isn't perfect)…
Clary herself is surprisingly tough as she's thrown blind into this new world full of danger, where nothing is as she thought: "all the stories are true." You witness her character grow and meet new people who are all amazing in their own way *cough*Magnus*cough*. Everyone has their part to play in this magnificent story set in a beautiful world I love to live in.
Cassandra Clare does a great job drawing the reader in from the first page and keeping their attention with the twists and turns that even if you predicted/read previously still surprise. She's written a fast-paced but humorous novel that I would recommend to anyone and everyone who needs their fix of fantasy.
Favourite Quotes:
"You guessed? You must have been pretty sure, considering you could have killed me."
"I was ninety percent sure."
"I see," Clary said. There must have been something in her voice, because he turned to look at her. Her hand cracked across his face, a slap that rocked him back on his heels. He put his hands on his cheek, more in surprise than pain.
"What the hell was that for?"
"The other ten percent."
"Is this the part where you start tearing off strips of your shirt to bind my wounds?"
"If you wanted me to rip my clothes off, you should have just asked."
"It means 'Shadowhunters: Looking Better in Black Than the Widows of our Enemies Since 1234'."
"The boy never cried again, and he never forgot what he'd learned: that to love is to destroy, and that to be loved is to be the one destroyed."
"If there was one thing she was learning from all this, it was how easy it was to lose everything you had always thought you'd have forever."