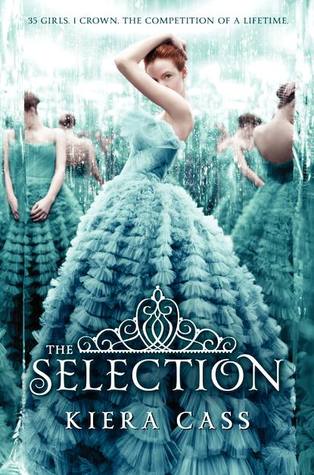 Goodreads Synopsis:
For thirty-five girls, the Selection is the chance of a lifetime. The opportunity to escape the life laid out for them since birth. To be swept up in a world of glittering gowns and priceless jewels. To live in a palace and compete for the heart of gorgeous Prince Maxon.
But for America Singer, being Selected is a nightmare. It means turning her back on her secret love with Aspen, who is a caste below her. Leaving her home to enter a fierce competition for a crown she doesn't want. Living in a palace that is constantly threatened by violent rebel attacks.
Then America meets Prince Maxon. Gradually, she starts to question all the plans she's made for herself--and realizes that the life she's always dreamed of may not compare to a future she never imagined.
Review:
Princess stories = Boring
Hunger games = Awesome
Combine the two = The Selection = Lies!
Whoever said that The Selection is anything like the Hunger Games should be sued for false hope. I was expecting girls in huge ball gowns fighting to the death over Prince Maxon, and while there were points where you expected small little cat-fights, nothing such was included. Major downer…
After looking deeper into the book I realise where the comparison stems from. The girls all fight over one thing (HungerGames: life, TheSelection: Maxon and the crown), only one can win (HG: others die, TS: others kicked out), set in a dystopian future (HG: destruction of north america, TS: united states of america after world war 3), stuck under a corrupt government (HG: the capitol, TS: the caste system). The comparisons go on, but I took it too literal so if you get anything from this review, take this: IT IS NOT A FIGHT TO THE DEATH!
However saying this I thoroughly enjoyed this book! I didn't expect to once I realised no-one would die and it was all about princesses, but it was a light and gratifying read.
The main character America Singer (guess what she does for a living, sings *eye-roll*) is a really down to earth character and you don't have to have been in a competition over a Prince to relate to her. Thank goodness for that. She is strong and proud in her own way, but she isn't helping the image that a girl doesn't need a guy to be someone. Either she's moping after her ex-boyfriend Aspen, who by the way is a complete lovesick idiot. Or questioning her feelings for Maxon, the sweetest guy ever, who's about as stuck in life as America is.
The caste system in place in this book is people's place in society in numbers, with 8 being homeless and 1 being royal, it is near impossible to move up ranks which are based on their ancestors lives. I think this is a great and original idea for a dystopian novel and it leads onto rebel attacks on the palace where all the girls and the royal family live. I really think that the author, Kiera Cass, could have done a lot more on this and therefore added more depth to her story. But there are 2 more books in this series and while it was only a minor plot in this first book I have a feeling it will play a bigger part in the following books. After all I'd be surprised if they could drag on the selection for 2 more books.
Favourite Quotes:
"True love is usually the most inconvenient kind."
"He stood and went to read my pin as I approached. "America, is it?" he said, a smile playing on his lips.
"Yes, it is. And I know I've heard your name before, but could you remind me?"
"Your Majesty—
Tugging my ear. Whenever."
"Listen to me, kitten. Win or lose, you'll always be a princess to me."