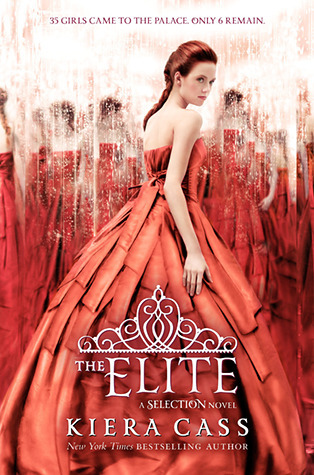 Goodreads Synopsis:
Thirty-five girls came to the palace to compete in the Selection. All but six have been sent home. And only one will get to marry Prince Maxon and be crowned princess of Illea.
America still isn't sure where her heart lies. When she's with Maxon, she's swept up in their new and breathless romance, and can't dream of being with anyone else. But whenever she sees Aspen standing guard around the palace, and is overcome with memories of the life they planned to share. With the group narrowed down to the Elite, the other girls are even more determined to win Maxon over—and time is running out for America to decide.
Just when America is sure she's made her choice, a devastating loss makes her question everything again. And while she's struggling to imagine her future, the violent rebels that are determined to overthrow the monarchy are growing stronger and their plans could destroy her chance at any kind of happy ending.
In all honesty I was a little disappointed by this book. It's the follow up to The Selection which was a light and hearty read that was very enjoyable, but it also had deeper plots. As I predicted this book followed these deeper plots based on the dystopian setting, and every time it mentioned the rebel attacks I expected a big revelation or something but every… single… time it fell short.
The Selection was still going strong throughout this book, and while I enjoyed it in the first book of the series, it was too slow going this time around. There were no stand-out or thought-provoking scenes. Instead the book was filled with petty arguments, girls being annoying and the most frustrating love triangle.
I think the point of this whole book was very stretched out character development. It was more setting up for the next book with regards to characters and plot, rather than a standalone book in its own right. The characters that were developing however have developed into idiots. America is no longer a strong female lead and instead is lacking self-confidence and makes so many huge mistakes at other's costs over petty arguments it's unbelievable. Maxon, well let's just say sometimes I wanted to sucker punch him in the face (don't get me wrong, I still love him to bits because he is patient and sweet with America… but still). As for Aspen, I simply don't like the guy.
Other than this there isn't much else to say. I will however read book 3 of The Selection series, The One, because with 336 pages setting up in The Elite, I am expecting an almighty climax. I hope it will include the caste system and the rebels, resulting in a major death, though I can't say who, because to be honest I would be happy with several characters dying.
Favourite Quotes:
"It wasn't like I made his world better. It was like I was his world. It wasn't some explosion; it wasn't fireworks. It was a fire, burning slowly from the inside out."
"I sighed. "Actually, Mom, we argue pretty regularly."
"What?" She gaped at me. "Well, stop it!"
"Oh, and I kneed him in the groin once."
There was a split second of silence before May barked a laugh. She covered her mouth and tried to stop it, but it kept coming out in awkward, squeaky sounds. Dad's lips were pressed together, but I could tell he was on the verge of losing it himself.
Mom was paler then snow.
"America, tell me you're joking. Tell me you didn't assault the

prince."
I don't know why, but the word assault pushed us all on the edge; and May, Dad, and I bent over laughing as Mom stared at us."