As my very first review on this blog I though it was only right to start with one of my favourite books, and though it was impossible to pick decided that I wanted to start with Obsidian by Jennifer L. Armentrout. It isn't my top favourite of all time but no one can honestly pick just one, so this is up there with many others.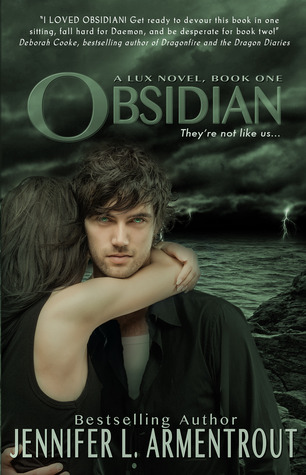 Starting over sucks.
When we moved to West Virginia right before my senior year, I'd pretty much resigned myself to thick accents, dodgy internet access, and a whole lot of boring... until I spotted my hot neighbour, with his looming height and eerie green eyes Things were looking up.
And then he opened his mouth.
Daemon is
infuriating
. Arrogant. Stab-worthy. We do not get along. At all. But when a stranger attacks me and Demon literally freezes time with a wave of his hand, well, something... unexpected happens.
The hot alien living next door marks me.
You head me. Alien. Turns out Daemon and his sister have a galaxy of enemies wanting to steal their abilities, and Daemon's touch has me lit up like the Vegas Strip. The only way Im getting out of this alive is by sticking close to Daemon until my alien mojo fades.
If I don't kill him first, that is.
Review:
I was wary of reading the Lux series at first, because while I love Jennifer L. Armentrout's series Covenant, I wasn't into the whole alien thing and rarely even read sci-fi. But after reading all of its amazing reviews I thought it was worth a shot.
I read Obsidian in a day: I am a new person.
This has to be one of my favourite YA books and now I have been converted into a lover of alien novels because, damn, who knew they could be so hot! It has the perfect combination of nail-biting action and a swooning teenage romance. I couldn't physically separate myself from Daemon the book and my family didn't see me at all once I picked Obsidian up, nor did I even want to stop to eat! Now that is the sign of a good book, because just like the Luxen I cannot get enough food.
The beginning rather reminded me of Twilight, but there was enough going on that I didn't resort to screaming "They're ALIENS you idiot!" at the book which is a step up. However I couldn't contain my reactions like grinning, scoffing or laughing out loud while reading the banter going back and forth between Katy and Daemon, so a bit of advice is not to read it surrounded by people, because you will get weird looks. Trust me.


It was a work of genius from Jennifer L. Armentrout to write from Katy's perspective. You immediately relate to Katy, who is this outspoken book nerd that acts like at least one person you know if not yourself. She told everything as she saw it, giving it out as much as she took it, with her particularly colourful language I might add.
The highlight of this book however is without a doubt… Daemon. The hunk and complete jerk, because isn't that always the way? *sigh* I loved him and hated from the get go if that's even possible, and the conversations between him and Katy are side-splittingly comical. Is it wrong to be jealous of a fictional character? Because even though Katy is amazing, I kinda hate her. After all I don't see myself living next door to a Daemon any time soon. He could give Jace Wayland and Edward Cullen a run for their money. And yes, I went there.
The one problem with this book is that it is unbelievably similar to Twilight. Some would go so far to say that it was originally made as a fan fiction for it. Once you read it you'll understand where I'm coming from, but for me I couldn't care less! It has more action, and plot twists, and in my opinion it is a better book, full stop.
Now anyone who has read Obsidian already will be ecstatic to know that in 2015 Obsidian will be made into a movie! I am dying to see it (and not just to see Daemon on the big screen (who by the way the casting director had better get right or I will personally go down to their office and kick butt)). If it is anything like the book it will be the next big franchise and I will be the first person in line to see it.
But for now there is the rest of the series eagerly awaiting me including Opposition coming out August this year.
Favourite Quotes:
"Beautiful face. Beautiful body. Horrible attitude. It was the holy trinity of hot boys."
"Will you show me what you really look like? You don't sparkle, do you?"
"The day my internet was hooked up was better than having a hot guy check out my butt and ask for my phone number."
"Thanks," I muttered and added under my breath, "Douchebag."
He laughed, deep and throaty. "Now that's not very ladylike, Kittycat."
I whipped around. "Don't ever call me that," I snapped.
"It's better than calling someone a douchebag, isn't it?" He pushed out the door.
"This has been a stimulating visit. I'll cherish it for a long time to come."
Okay. That was it. "You know, you're right. How wrong of me to call you a douchebag. Because a douchebag is too nice of a word for you," I said, smiling sweetly.
"You're a dickhead."
"A dickhead?" he repeated. "How charming."